How gum disease affects the overall success of your dental implant treatment and if we can place dental implants at all. 
Are dental implants possible with gum disease?
Symptoms | Causes | Treatments | Tips
Can gum disease be cured? For some, there is no going back once it has advanced to a certain stage.
However, there are certain treatments we can do to keep your oral condition healthy!
At the Gentle Dental, we use advanced technology to reverse the effects shown by gum disease and use high-quality dental implants to replace teeth lost to the disease.
Periodontitis (also called gum disease) causes the gums to become swollen, sore or infected and can lead to tooth loss if left untreated.
Signs of the condition include:
Bleeding, red or swollen gums, bleeding after brushing or flossing
Wobbly teeth, bad breath (halitosis)
Unpleasant taste in the mouth, plaque/tartar build-up
Once you progress past the gingivitis stage, it can be extremely difficult to slow or eliminate periodontal disease. 
A build-up of plaque on the teeth
Genetics
Poor oral health care and hygiene
By scheduling regular check-ups with your dentist, practising good oral hygiene habits, and avoiding things like smoking, you can dramatically reduce your likelihood of becoming a victim of periodontal disease.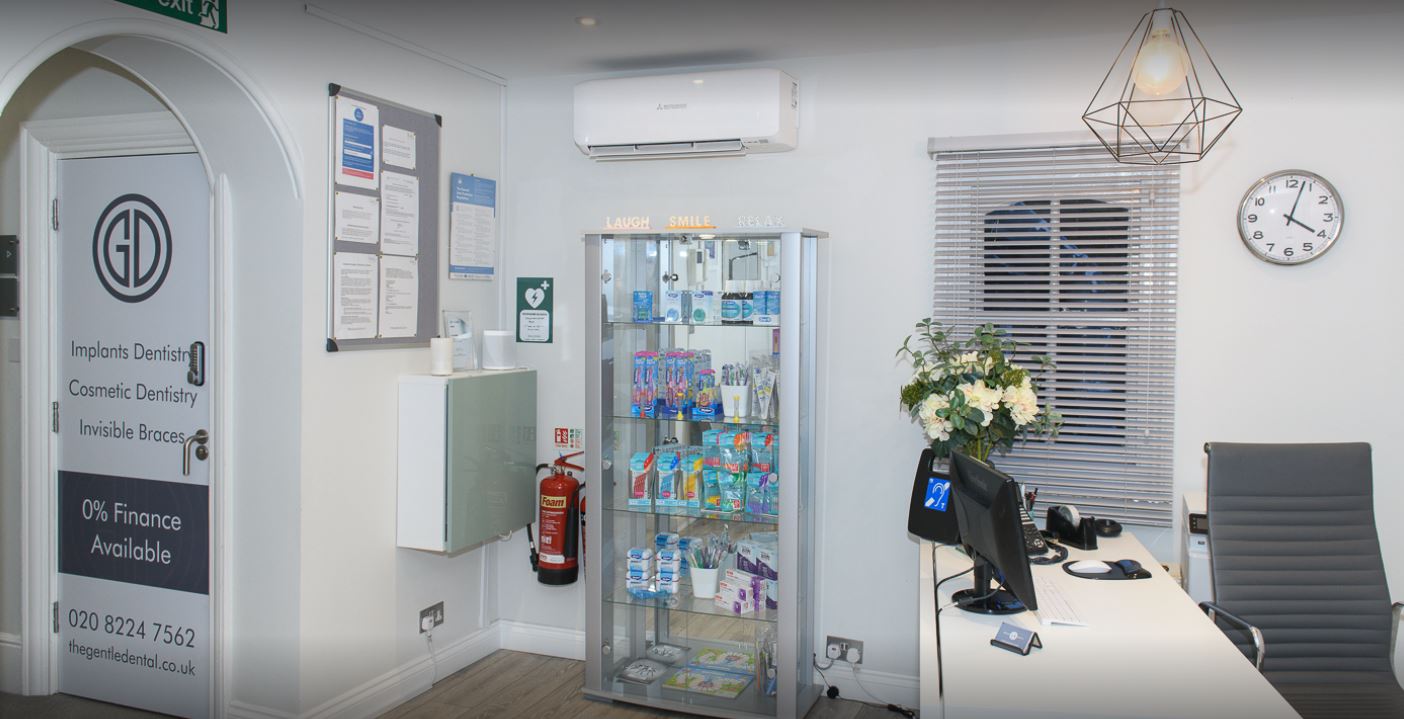 In cases of severe gum disease, you will likely require further medical and dental treatment.
In the most extreme cases, surgery may be prescribed by a gum specialist (periodontics).
Treatments for gum disease can include:
Root planning
Scaling and polishing the teeth
Restorative treatment, including dental implants, crowns and bridges
Treating periodontal disease quickly is the best way to ensure as little long-term damage as possible to your oral condition.
Gentle Dental is positioned in the heart of East Molesey. Our care is highly-rated and trusted throughout Surrey and London.
We are just a short walking distance from Hampton Court station, and we are a reliable and popular choice of practice that has been providing exceptional dental care in the area for over 25 years.
Click here to book a free consultation with one of our advisors and find out the best way to treat gum disease before it's too late.
Our top tips to avoid gum disease:
Brush your teeth twice daily for 2 minutes
Floss regularly
Avoid smoking
Book regular checkups with your dentist