Various implant methods and denture techniques make it easy to get confused or lost in the options available. We can help advise what's best. Dental implants support fixed dentures, so you'll never have an embarrassing moment again.
A Fully Reconstructed Smile that Lasts a Lifetime
Are you missing a lot of teeth? Have you heard about implant-supported dentures? Often, when adults lose teeth as they age, or through trauma, decay or disease, we would recommend implant-based treatments as a safe, and effective way to help you improve your smile while keeping it healthy.
With implant-supported dentures, we can preserve the aesthetic view of the mouth and also maintain the overall structure of the mouth by preventing other teeth from shifting out of their natural positions.
Quick answers to essential questions:
What is an implant-supported denture? They are a type of overdenture that can replace several missing teeth at once. Using a minimum of two dental implants for support, an implant-supported denture is used to replace teeth on both the top and bottom of the mouth.
Are implant-supported dentures good? Long been hailed as a lifelike, effective solution to treat missing teeth for edentulous patients, implant-supported dentures are special appliances that can restore natural functions.
Does food get under implant-supported dentures? Food is less likely to get under your denture with implant dentures, but if this does happen, the irritation is minimised as the denture does not need to put pressure on the gums but rather directs force to the bones.
How many implants are used in implant-supported dentures? Implant dentures used to replace a full mouth will only require a few dental implants to stabilise the denture comfortably. Two to four implants are sufficient for many of our patients; however, six implants might be necessary.
Please call the practice for more information on 020 8224 7562.
Denture implants explained
Implant-supported dentures are a type of permanent overdenture supported by dental implants in the jawbone.
A partial or complete denture will attach to the underlying tooth structure, i.e. dental implants.
With implant-supported dentures, you can choose from Bar Retained (removable), or Fixed Screw Retained.
However, like with most implant-supported treatments, a sufficient bone will be required for this procedure.
For patients looking to skip this process and avoid added treatment times, sinus and bone grafts can turn to All on 4 (same-day teeth).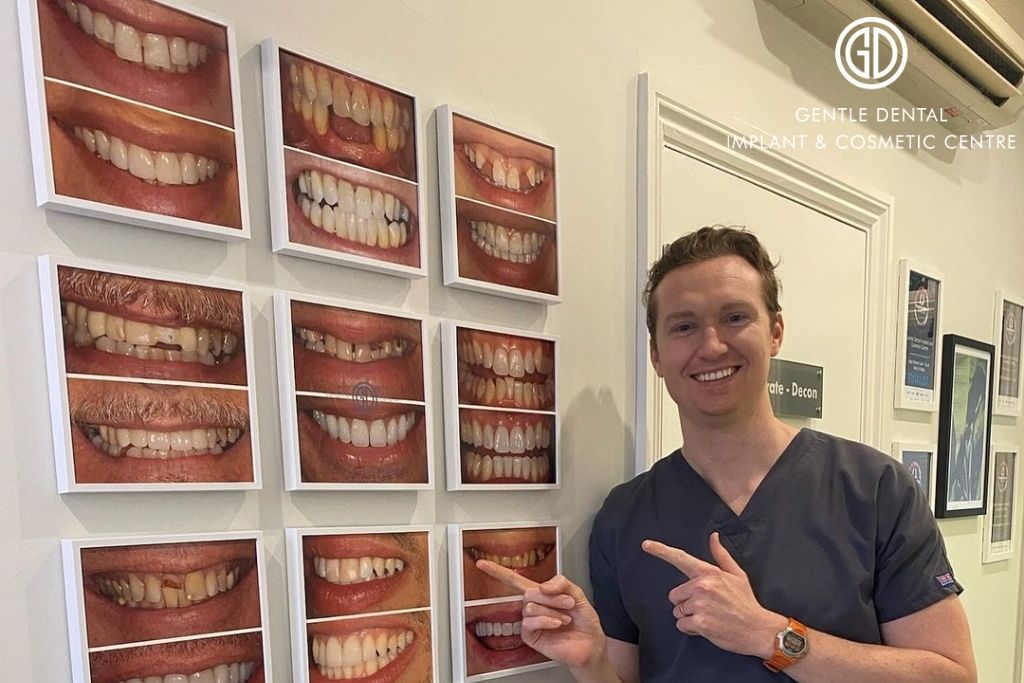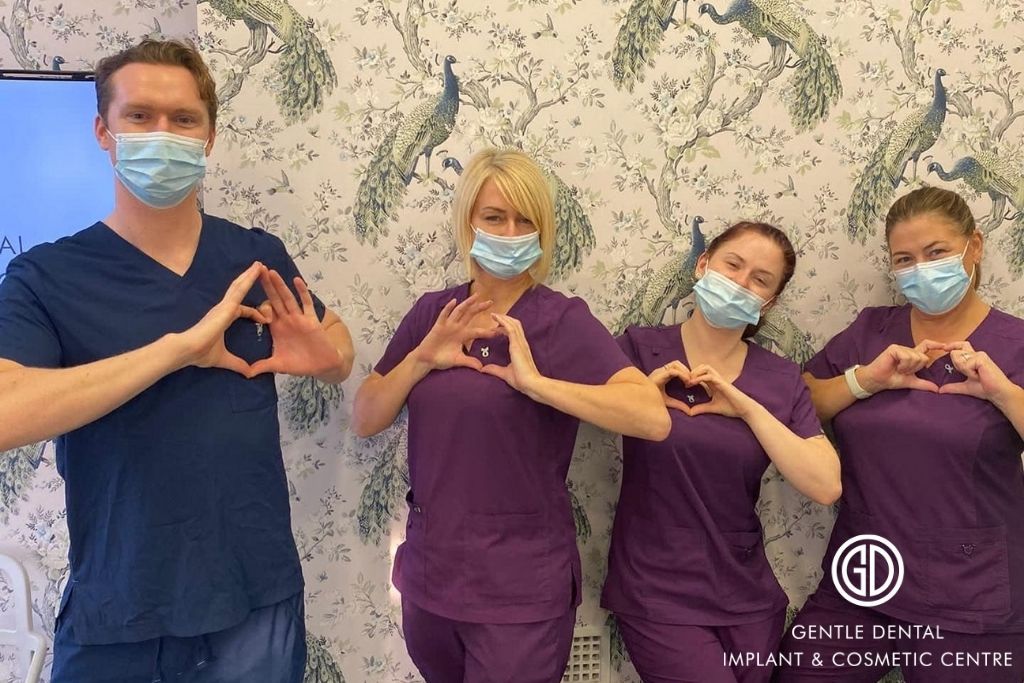 How implant-supported prostheses work
An implant-supported denture is prepared using the same pink-coloured acrylic that is utilised in the fabrication of conventional dentists.
 The artificial teeth used will either be made from acrylic or porcelain. The main differences appear on the denture base's internal surface, that's specially designed to fit with implants.
When the denture is placed on top of the implants, both corresponding attachments fit perfectly together.
Thus, preventing the denture from moving or slipping.
Patients unhappy with their regular dentures can replace them with implant-supported overdentures that promise not to slip when you speak.
Dental implants provide a sound and solid foundation for dentures, improving your chewing and speech efficiency.
However, to be considered for this procedure, you must have a sufficient amount of bone density and thickness of jaw bone available – this is so that we can secure and hold the implants firmly in position.
Choosing the right implant denture
We have several options for patients with no jawbone to seek immediate treatment, and further options for patients with sufficient bone looking to save money on their full mouth reconstruction.
Which type of implant treatment you opt for will depend on your condition and circumstance – and we can help break down what's available.
When it comes to implant dentures, you have three options; implant-retained, implant-supported and All on 4.
Learn the differences below:
The implant process broken down
First surgery: Place the implants
Second surgery: Exposing the implant heads (to determine osseointegration)
Denture insertion: We will secure your dentures to the bar or ball attachments
When it comes to placing a particular kind of implant, it will rely on the condition of your jaw and how we approach dental implant surgery.
Generally, dental implant surgery can entail several procedures over a few months.
And while this might sound intensive and long, the primary benefit is to receive reliable support compared to the slippage and bone damage that fixed bridgework and dentures cause.
With the implant-supported denture process, we will position implants into the jaw after investigating the need for bone grafting or any other preliminary procedures.
Generally, the process is split into two stages, with the first surgery placing the implants.
Once the implants have been implanted, we will need to wait three months to allow a sufficient healing period. Please call the practice for more information on 020 8224 7562.
It only takes 2 minutes to apply and you'll get an answer immediately – applying for a loan has never been easier.
0% finance is available for many treatments up to £30,000. Credit decisions will be subject to individual circumstances. You must be over 18 and earn an income to apply.