Sadly, most dentists might not tell you how long dental implants take to heal, as they might think it puts you off getting implants in the first place, as we live in a fast-paced, immediate results world.
Dental implant healing stages – how long it takes to recover
It's not about the speed at which we can place implants but how long it takes to place the final restoration. And unfortunately, the healing process, referred to as osseointegration, is not a process we have much control over or something we should rush. 
Fitting the final restoration, like a dental crown, is not possible to be immediately loaded; all-on-4, a type of dental implant treatment, for example, can cope with that due to the angles at which the implants are placed.
Timeframes
One implant can be placed in an in-chair surgery that takes an hour, and up to four implants can take up most of an afternoon.
In the case of traditional implants, patients should expect to wait between three and six months for their implants to fully fuse with the bone, with delays if they've had a bone graft or sinus lift, which might take an additional 4-6 months. Tooth extraction can also delay your implant treatment, taking between 8 and 12 months to complete.
Healing stages - 4 steps to a full recovery
The surgical stage is the first step in the dental implant process, where the implant is inserted into the jawbone. Two weeks later, you'll be invited into the practice to have your sutures and stitches removed.
The osseointegration/healing period is when we wait for the implant to fuse to the bone. It's the most critical stage of your implant journey, which will prevent the implant from failing and ensure it functions properly. Here, you'll have to wait 3-6 months and will take a course of antibiotics to reduce the risk of infection.
Once the bone cells in the jawbone have grown around the implant and anchored securely, we can invite you back to attach the abutment. The abutment is the screw connecting the crown, bridge or denture to the implant. Then, there's another break of two or three weeks. This also gives us time to take your impressions and start working on your custom crown, bridge or denture.
At last, you'll receive the final restoration, where we can screw your crown, for example, to your implant, completing the process. An extra appointment might be necessary to adjust your restoration if it feels uncomfortable or fits quite right. This is almost always the case for full-mouth rehabilitation cases.
We will invite you back for a check-up three to six months after your final fitting to see how everything is going.
Following the implant surgery, it's normal to experience slight discomfort from swelling and bruising for the next few days, which will be managed with prescription pain medication and over-the-counter pain relief. 
The oral surgeon and implant dentist will also brief you on the symptoms to expect and any alarming ones to act on.
As pain is relative, the amount you experience will depend on your tolerance and overall health. However, do note that many report minimal discomfort rather than significant pain. 
If you're a particularly nervous patient during the procedure, we provide dental sedation. We can use an IV during the surgery, keeping you conscious but leaving you no memory of the procedure.
During each stage, it's critical you follow the implant dentists and oral surgeon's instructions for post-operative care – this will ensure the implant heals properly and avoids complications. If you experience any unusual symptoms, you will need to contact the dentist immediately.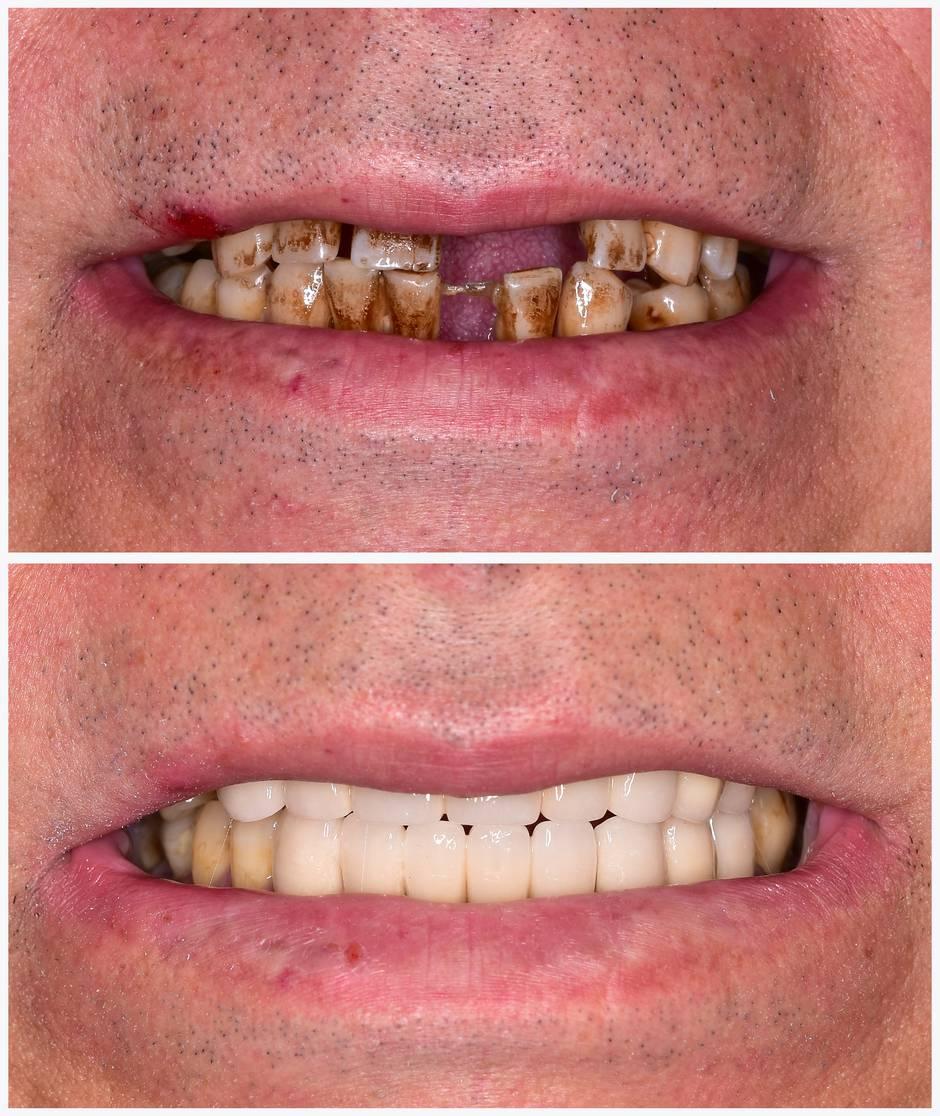 Typical post-op instructions for a smooth recovery
❌ Avoid strenuous activities that disrupt the healing process or strain the implant site.
❌ Avoid hard, crunchy, sticky foods that put unnecessary pressure on the implant site.
❌ Avoid alcohol for the first 24-48 hours to minimise the risk of bleeding or infection. No smoking either, as this can increase the risk of complications.
✅ Make your medication as the dentist prescribes to manage pain, swelling and infection.
✅ Practice and maintain a good standard of oral hygiene to promote healing and prevent infection. Brushing, flossing and rinsing with mouthwash is encouraged.
✅ You will be permitted to drive, following that you have not opted for dental sedation for your procedure, which will require a responsible adult to take you home.
Find us in East Molesey KT8
1 Spencer Rd, East Molesey Surrey KT8 0DL
5 minutes from Hampton Court