As a top Invisalign-rated provider, the Gentle Dental is your first choice for Invisalign treatments in Surrey.
Platinum Invisalign Providers
We are Platinum Providers of Invisalign – this means we are recognised as one of the best in London & Surrey.
We have worked with Invisalign for a very long time and have treated more than 300 hundred patients.
As your smile can greatly impact your life, knowing that it will be taken care of by dedicated professionals makes all the difference.
Why Invisalign is so popular
At The Gentle Dental, we have many different types of Invisalign systems and have payment plans and special Invisalign packages available.
Invisalign consists of clear tray aligners that are made of a specialised type of plastic that is only 0.8mm thick.
Invisalign has been designed and manufactured to ensure it is both discreet and comfortable.
The Invisalign aligner system is an excellent choice for patients who want to achieve a straighter smile but also want to avoid the striking look of metal braces.
Invisalign Before & Afters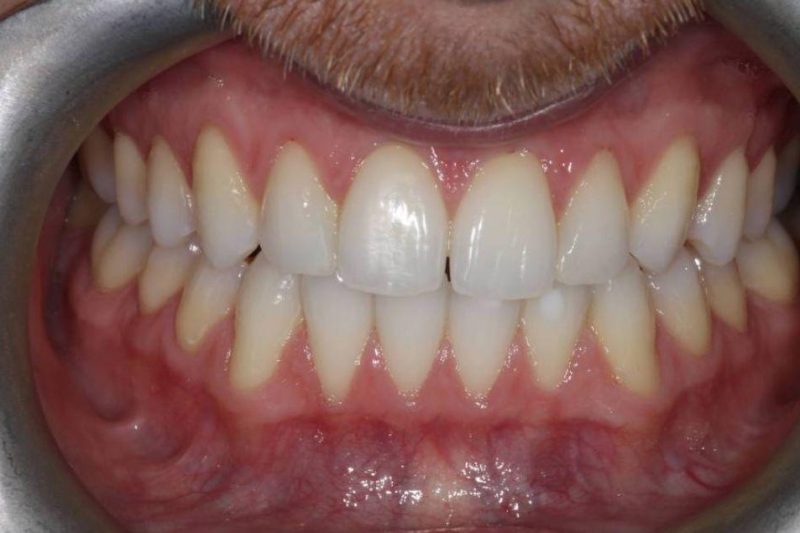 Danny made the right choice coming to our clinic as we're Platinum Elite Providers of Invisalign, meaning we're one of the top dentists in Europe who complete the most cases every year.
I can't thank the team at the Gentle Dental enough after completing my Invisalign treatment. Every step has been incredibly smooth and easy. My treatment finished just before my wedding day, and I am over the moon with the results! – Danny, Surrey
Is Invisalign right for you?
If you suffer from crooked, misaligned teeth, we are here to provide the solution that leaves you with a smile you feel proud of.
Invisalign® aligners are a revolutionary, removable, and almost invisible orthodontic treatment system.
They are an extremely popular and effective alternative to traditional metal braces, with more and more teens and adults opting for the solution.
Find out more on Invisalign
How long does Invisalign take?
Some Invisalign treatments can work faster than traditional metal braces.
Traditional metal braces can take around 2 years (24 months) on average to achieve their full effect.
If Invisalign is worn for 20-22 hours a day, the treatment can be completed in 4 to 18 months (depending on the severity of your case).
Unlike traditional braces, you can remove your Invisalign aligners to eat, drink, brush, and floss.
Free Initial Consultation 
Free iTero Scan – (worth £150)
Invisalign teeth straightening aligners and trays (full sets)
Tooth whitening using Boutique Whitening system (worth £395)
Upper and lower fixed bonded retainers (worth £300)
Upper and lower Essix removable retainer (worth £175)
Free review 12 months after treatment has finished
How does Invisalign work?
The moulds work by putting enough pressure on the teeth so that they can move slightly with each aligner. Every time you replace it with a new mould, the teeth will move closer to the desired final positioning.
The first step of the Invisalign journey entails consultation with one of our skilled orthodontists.
We will assess your smile and overall oral health, then take impressions of your mouth. Next, we can then create Invisalign aligners that are perfectly suited to align with your mouth.
To make your custom set of Invisalign aligners, 3D computer imaging technology is used. This is called the iTERO scanner, which uses precise pictures of your teeth and gums.
The scan will give us an after-treatment simulation of what your teeth will look like before you commit.
We will create a unique treatment plan specialising to your personal needs. So you are fully aware of the next steps in achieving the results you are looking for.
Many people tend to choose to whiten their teeth and complete their treatment with some composite bonding or porcelain veneers to achieve a full enhanced appearance.
It only takes 2 minutes to apply and you'll get an answer immediately – applying for a loan has never been easier.
0% finance is available for many treatments up to £30,000. Credit decisions will be subject to individual circumstances. You must be over 18 and earn an income to apply.
What it means to be Elite Platinum Providers
Countless hours of real-world experience
Know how to achieve desired results using the least amount of trays
Straightened hundreds of smiles
Not just any dental practice can be a platinum provider of Invisalign.
It takes hundreds of cases. This means our practice is amongst those around the world that has treated the greatest number of patients.
This distinction means that the moment patients enter our clinic, they know they are in good hands.
If you would like to learn more about Invisalign and see if this teeth-straightening method is right for you, we offer free consultation appointments with dentists at our Surrey based practice in East Molesey KT8 0SP.
Here, we can answer all of your questions and concerns. As well as identifying which orthodontic treatment and a payment plan are most fitting for you.
To find out how we can help you feel better about your teeth and smile today, contact us on 020 8224 7562.
What are the alternative Fixed brace options?
We are highly invested in the success rate and effectiveness of the Invisalign system. However, (like every teeth straightening system) there are some limitations.
Some issue people have reported with the Invisalign system is the hassle of removing the aligners while eating and drinking.
Although these are minor inconveniences, if Invisalign doesn't appeal to you, then there are some alternative options available:
Ceramic braces: Ceramic braces are the same size and shape as metal braces. They have tooth-coloured or clear brackets that make them less visible against teeth.
Incognito braces: Lingual braces involve attaching the orthodontic brackets on the inner sides of the teeth.
Inman aligner: The aligner provides a solution for patients with minor alignment and crowding issues, allowing them to realign their smiles in as little as 6 to 16 weeks.
Six-month smiles: Works for all teeth and is a system of white wires and brackets, so again it is more discreet than traditional stainless steel and suitable for patients who desire a less obvious brace.
Fed up with crooked teeth or overbites?
Change your teeth and life today.
Book a consultation today
Now accepting patients from:
Addlestone, Chertsey, Shepperton, Cobham, Woking, Staines, Esher, Twickenham, Teddington, Hampton, Chessington, Sunbury, Walton, Epsom, Sutton, Claygate, Thames Ditton, Hinchley Wood, Surbiton, Kingston.