Are you looking to rejuvenate your smile? Are you interested in having new, attractive, white, sparkling teeth?
The affordable, non-invasive way to achieve a whiter, brighter smile
Cosmetic dentistry treatments are becoming increasingly popular as more and more people acknowledge their aesthetic, oral health and confidence-boosting qualities.
Teeth whitening is a safe and effective method of transforming your smile. It is a popular, non-invasive and affordable way to achieve a whiter and brighter smile in no time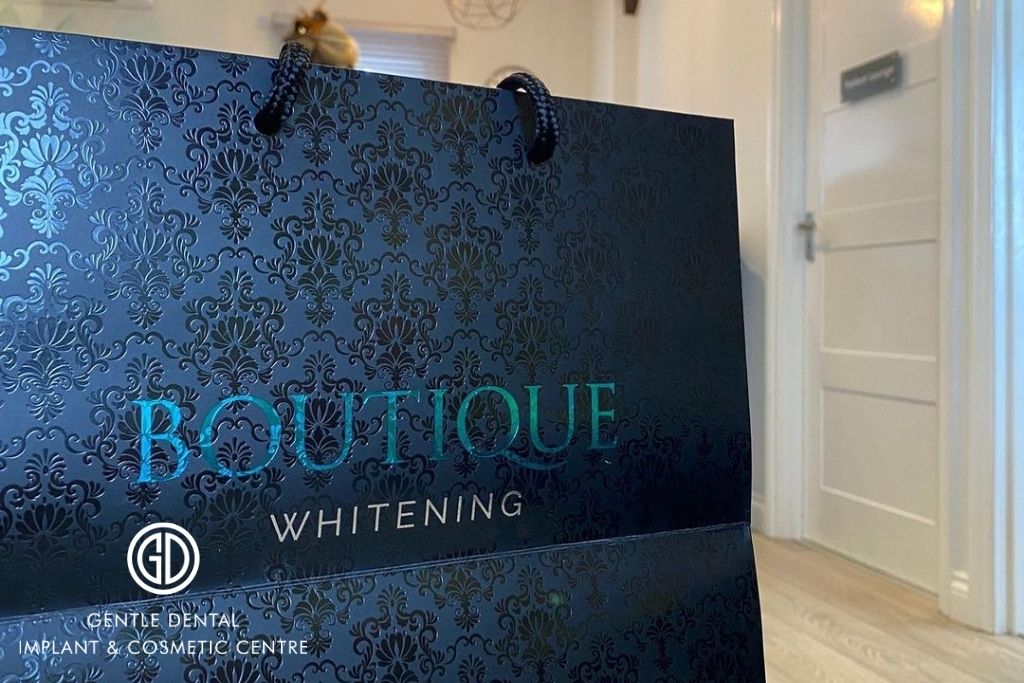 Is teeth whitening suitable for everyone?
Natural tooth discolouration is unavoidable and something we all end up being affected by.
Over time, tooth enamel becomes discoloured.
This can be enhanced by lifestyle choices, e.g. smoking or drinking a lot of coffee and red wine.
Calculus, also known as tartar, can also impact the colour of your teeth.
Some people may have staining under the surface of the teeth, which certain antibiotics can increase.
Since no one has naturally white teeth and we are all affected by staining, we can offer improvements for almost all patients.
Before we carry out treatment, we will assess the condition of your teeth and determine if you are a suitable patient for professional teeth whitening.
We must check some things before proceeding with treatment; however, usually, there are no issues, and most people can go ahead with the whitening procedure.
Restorative treatments like fillings must be completed before a teeth whitening procedure.
Generally, one risk of teeth whitening may increase tooth sensitivity.
This is dependent on the gel used and one of the reasons why it is a better idea to have your treatment carried out by a professional dentist rather than doing the whitening at home yourself.
Professional teeth whitening performed by a dentist can easily and quickly enhance your smile.
Dentists, like Dr Ali Rifai, will use a concentrated gel to remove stains from your teeth for lasting and dramatic results.
Usually, there are four stages involved in the process, spread out over a six week period:
We will take an impression of your teeth, in order to create a removable tray that fits perfectly around your teeth. We will also give you a special dental serum that you can apply at home to protect the teeth and prevent the risk of sensitivity.
You are then given the first whitening treatment in practice.
Next, you will use the whitening system at home as advised by your dentist. This measure will carefully and gently brighten the teeth while protecting them from damage and increased sensitivity.
After two weeks, you return to the dentist for the final treatment.
Although home whitening is often quicker, there are clear benefits of having your treatment carried out in the practice by a professional dentist.
At-home teeth whitening vs in-practice whitening
Although in-practice whitening is slightly more expensive, you get what you pay for and the additional costs are justified based on the:
Expert precision offered by experienced practitioners in the practice
Use of reliable, strong whitening gels that have been previously tested
We promise guaranteed results
We offer follow up appointments if you are not happy with these results
At-home teeth whitening kits are an easy way to brighten your teeth at home.
We'll create custom trays that you will fill with a whitening gel and wear for the prescribed period, which varies depending on the initial shade of your teeth, your desired results, and your predisposition to sensitivity.
With proper use, your teeth can lighten by up to six shades.
Get an interest-free loan in under 5 minutes
It only takes 2 minutes to apply and you'll get an answer immediately – applying for a loan has never been easier.
0% finance is available for many treatments up to £30,000. Credit decisions will be subject to individual circumstances. You must be over 18 and earn an income to apply.