When you carry out your orthodontic treatment with the Gentle Dental, your case will be managed by a team of orthodontists who will work with you to achieve the smile you want most quickly and affordably possible.
Tooth Coloured Fixed Braces
Our practice offers patients ceramic braces that use clear brackets to move teeth faster than any clear aligner can.
However, they're not for everyone, and detailed consultation with us will determine your suitability.
With the Gentle Dental, you can rely on that you will be treated by the finest and most qualified professionals in Surrey, who have the right skills, experience and accreditations to deliver the best results.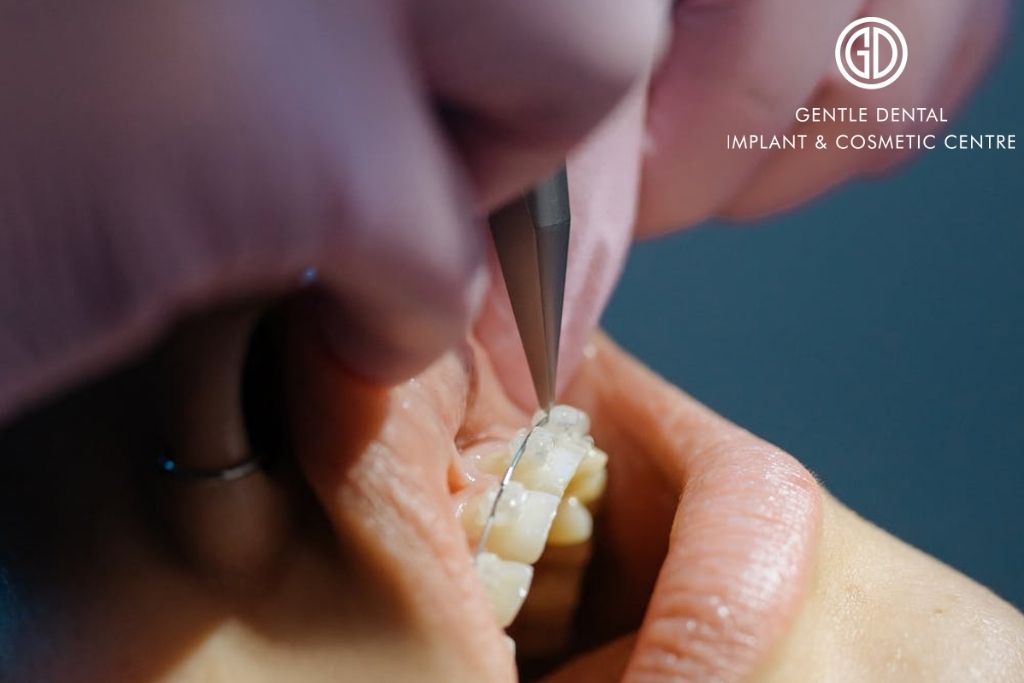 Ceramic braces are the general term that our dentists use to describe brace attachments from clear to tooth-coloured.
Ceramic braces are the same size and shape as metal braces and work in basically the same way.
Unlike metal attachments, which can be unsightly, ceramic braces are mostly inconspicuous.
The attachments of white braces tend to blend so well with the tooth's natural colour that the only visible portion is the thin metal wire that passes through each bracket.
The white brace process will rely on the involvement of an orthodontist, who will use their skill and experience to tighten wires on specific teeth to gradually move them.
This makes them highly desirable amongst adults, who want an attractive, straight, sparkling smile – but don't want to endure the embarrassment of wearing metal train tracks.
Are you a candidate for the procedure?
Tooth-coloured ceramic attachments are a great solution for mouths that have fully developed.
However, they are typically offered by orthodontists to patients suffering from gapped teeth, overcrowding and mild bite correction.
One of our detailed orthodontic consultations can determine if you are a good candidate for the procedure, as some patients may need more comprehensive treatment options.
Our orthodontists here at Gentle Dental are trained to handle both mild and complex orthodontic cases and we are often the most-referred to orthodontic practice in Surrey.
Depending on your oral condition or personal circumstances, another fast and discreet brace system might be a better option – let's find out.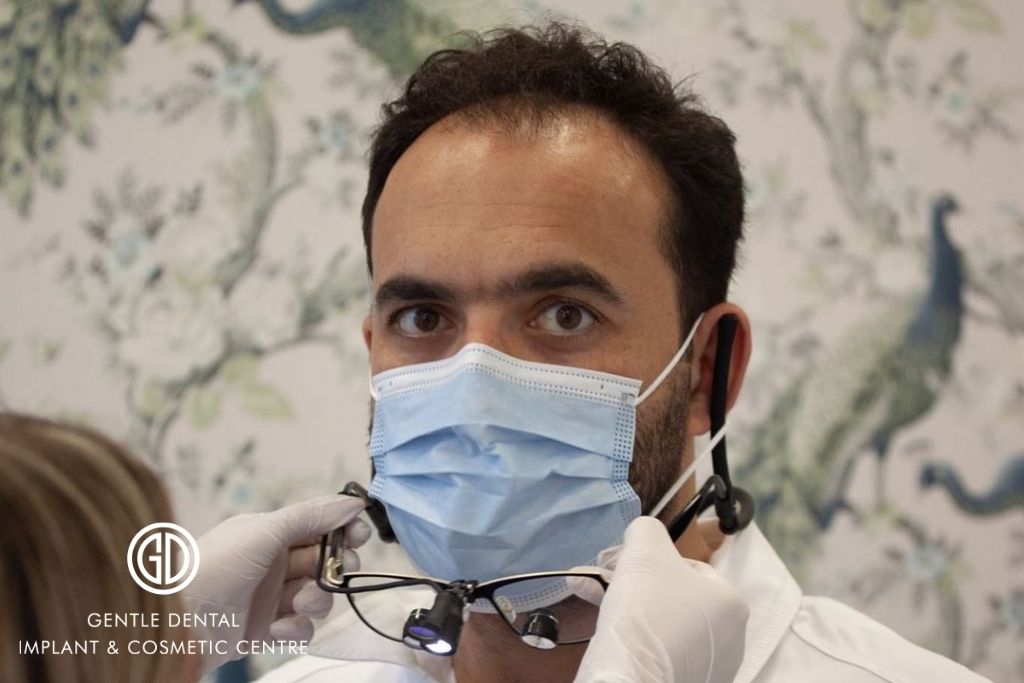 White brace treatment steps
The brackets are made of high-grade ceramic materials and are manufactured to match the colour of your natural teeth, offering a discreet, effective teeth realignment solution.
The first step of the procedure involves a free consultation meeting whereby our dentists can evaluate your oral health using x-rays, and find out if ceramic braces are the best option for you.
When the treatment begins, we will first bond the brackets to the front surface of your teeth with a special adhesive to keep the brackets in place.
Next, we will connect the brackets with wires which again, will camouflage against your teeth.
Over time, we will tighten the wires to exert mild pressure on the teeth, encouraging them to move slightly so that they will eventually reach the final desired position.
What to expect from the white brace process
After attending an initial consultation, one of our orthodontists will make sure you're fully informed on the procedure and what to expect from the final results.
Following your consent to pursue treatment, we will schedule the initial appointment where we will gently bond the braces to your teeth, then the wire will be applied and secured.
In most orthodontic cases, patients see results in as little as three months, with the most significant changes usually taking place around the 9-month mark.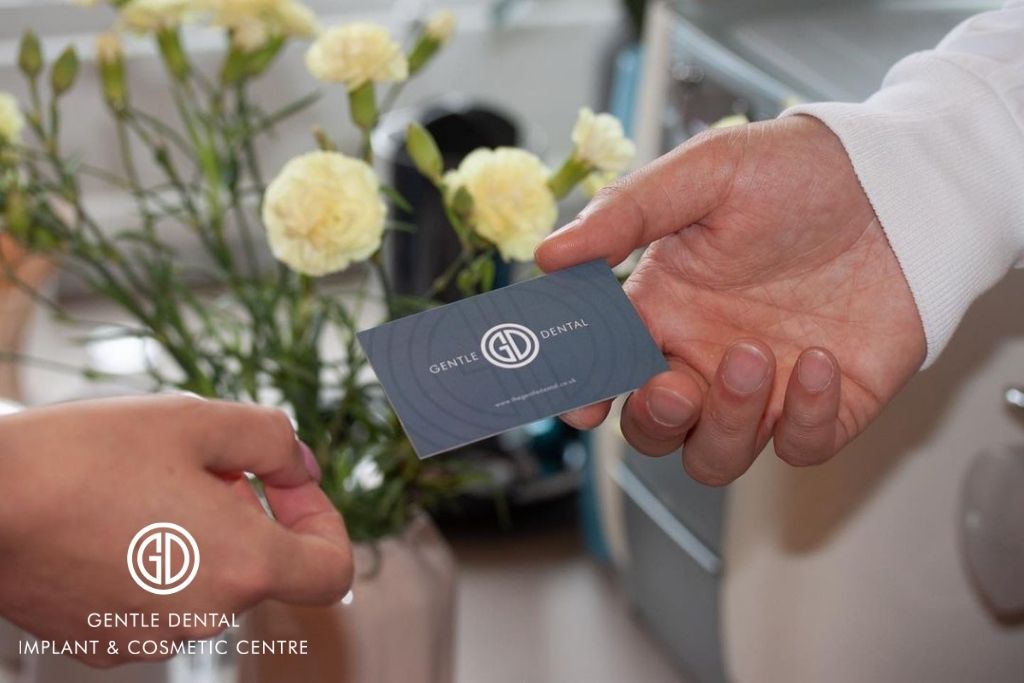 Fed up with crooked teeth or overbites?
Change your teeth and life today.
Book a consultation today
When it comes to ceramic braces, treatment time varies depending on each patient and the complexity and severity of their specific case.
They generally work faster than clear aligners but take longer than traditional metal braces. Ceramic braces can straighten teeth in a year.
Since ceramic brackets can break more efficiently, the straightening process may take longer because of delays in straightening between visits to the orthodontist to fix broken brackets.
However, if you treat the braces with care and avoid hard or sticky foods (chewing gum etc.), you should be able to prevent damage.
When your teeth have reached the final positioning, the brackets will be removed, and we will give you a retainer to wear. This will prevent your teeth from relapsing to their original position and is vital months after treatment.
What are the pros and cons of ceramic braces?
Pros:
Unlike Invisalign, they are not removable and are permanently attached to the teeth for the duration of the treatment plan. 
More discreet than metal braces – you can achieve the same results without the unsightly appearance!
Teeth move a lot faster than clear plastic aligners (Invisalign). Usually, this type of braces takes 18-36 months to straighten your teeth. 
Due to the material, they are smooth and feel comfortable in the mouth.
Cons:
Can be slightly more expensive than traditional metal braces, though we have payment plans in order to make this more affordable.
The elastic ties holding the wire against the brackets may stain. You can have these replaced at our practice.
Ceramic braces are slightly less durable, so as your teeth move, brackets occasionally need to be replaced to keep them from breaking under pressure.
What does The Gentle Dental offer?
At The Gentle Dental, we are committed to providing the best possible treatment for our patients.
It is our job, not only to deliver amazing results for our patients but also to ensure you are happy, comfortable and relaxed throughout your treatment.
People choose to have their treatment with us because:
Get an interest-free loan in under 5 minutes
It only takes 2 minutes to apply and you'll get an answer immediately – applying for a loan has never been easier.
0% finance is available for many treatments up to £30,000. Credit decisions will be subject to individual circumstances. You must be over 18 and earn an income to apply.
More orthodontic treatments
We are Platinum Providers of Invisalign – this means we are recognised as one of the best.
Brackets are attached to the inner surface of your teeth, cleverly concealing them.t.
The Inman Aligner is a fast way to straighten your teeth and has been received as a revolutionary appliance in the dentistry realm.
Ceramic use tooth-coloured or clear brackets that make them less visible against teeth.