Invisalign Full is the extended version of the revolutionary Invisalign system, which is 70% more reliable, predictable, and effective than alternative straightening techniques.
Invisalign Full in Surrey from £3,500
The Gentle Dental are Invisalign-approved dentists who have transformed hundreds of smiles using the incredible precise aligner technology.
With us, the proof is in the pudding. We've been awarded Platinum Elite Provider status (soon to be Diamond providers) by Invisalign. We must achieve the minimum quota of 150 cases every year to hold onto our prestigious title.
When choosing Gentle Dental to correct your moderate and severe smile problems like crooked teeth, overbites and underbites, you can rest assured that you're in the safest (and possibly the best) hands.
Everything you need to know about Invisalign Full at a glance
Underbite and overbite
Open bite and crossbite
Crooked teeth and crowding
Gaps (up to 6mm)
20-30 sets of clear aligners
Treatment likely 12 months
Advanced cases 18 months
Fix in just one appointment
Platinum Providers
584 successful cases
Offers all versions
State-of-art technology
Invisalign Full in detail
Here at our Invisalign practice, we offer several different versions of Invisalign, with Invisalign Full being one of our most popular systems.
The comprehensive, complete version of the Invisalign Full programme will typically use around 30 trays over 12 months.
The most complex cases can often use up to 50 aligners over 18 months.
Depending on your bite problem, the allotted treatment length can vary.
When undergoing your Invisalign Comprehensive treatment with us, we will invite you into the practice every 3-8 weeks to monitor how your teeth respond to the treatment and if they are gradually moving into their new positions as planned. 
You'll also likely receive your next new series of aligners during this appointment.
Each case Invisalign Full can treat
Invisalign Full is suitable for patients suffering from misalignment issues like overbites from mild to severe. 
So, if you suffer from gapped teeth, crooked teeth or class II malocclusions, then Invisalign Full will happily and effectively realign teeth into their correct alignment. 
That said, Invisalign is often only suitable for around 90% of orthodontic cases. Alternative treatments might be recommended for moving teeth vertically or rotating teeth. Some severe malocclusions might also require surgery of the jaw to correct.
Invisalign Cases & Reviews
Before
After
Before
After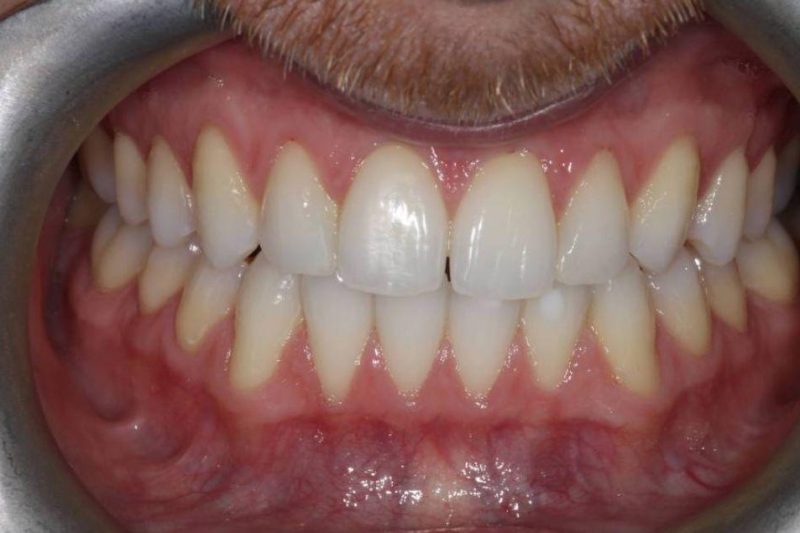 Before
After
Before
After
Benefits of Invisalign Full
Suitable for various orthodontic corrections (even severe bite issues)
Removable and non-disruptive
Perfectly formed to fit your mouth and gradually move teeth
No food or diet restrictions
Oral health improves through better hygiene
Smooth, transparent surface
Comfortable and pain-free with no wires, attachments or brackets
Unbelievably for this revolutionary system, the cost is comparable to other low-costing brace solutions on the market. 
For example, our prices for Invisalign Full begin from £3,500, which is inclusive of the following:
Scans, x-rays and 3D modelling (worth £219)
Invisalign teeth straightening aligners and trays (full sets)
Tooth whitening using Boutique Whitening system (worth £395)
OR composite bonding on the upper and lower incisor teeth (worth £1,600)
Upper and lower fixed bonded retainers (worth £300)
Upper and lower Essix removable retainer (worth £175)
Unlimited reviews over 12 months after treatment have finished
Fed up with crooked teeth or overbites?
Change your teeth and life today.
Book a consultation today
Interest-free loan for Invisalign Full
Pay as little as £72.89 per month for Invisalign Full
It only takes 2 minutes to apply, and you'll get an answer immediately – applying for a loan has never been easier. 0% finance is available for many treatments up to £30,000. Credit decisions will be subject to individual circumstances. You must be over 18 and earn an income to apply.
We straighten, you do the smiling
What it means to be Elite Platinum Provider:
Hundreds of hours of practical Invisalign applications
Our dentists know how to achieve your desired results using the least amount of trays in the least amount of time 
A minimum of 150 Invisalign Full cases completed every year (that's three Invisalign cases every week)
Not just any dental practice can be a platinum provider of Invisalign. It takes hundreds of successful cases. 
This distinction means that our patients know they are in good hands when booking to undergo Invisalign with us – and seeing a smile has a significant impact on your confidence; knowing it's in the hands of dedicated Invis professionals can make all the difference.
The fastest way to a straighter smile
There's no denying that Invisalign Full is the go-to solution for adults who want straighter teeth now, without the need to be embarrassed by metal, uncomfortable braces.
And if you are committed to wearing the aligners 22 hours a day, you'll be quickly on your way to the smile you've always wanted.
To find out how we can help you feel better about your teeth and smile today, contact us at 020 8224 7562 to redeem your free Invis consultation.
Learn more about invisalign
Now accepting Invisalign patients from:
Addlestone, Chertsey, Shepperton, Cobham, Woking, Staines, Esher, Twickenham, Teddington, Hampton, Chessington, Sunbury, Walton, Epsom, Sutton, Claygate, Thames Ditton, Hinchley Wood, Surbiton, Kingston.