Are you looking to straighten your smile in half the time of conventional braces? With the innovative Six Month Smiles system, patients aged 16 and up can treat crooked or misaligned front teeth quickly.
Straight Teeth in Less Time with 6-Month Smiles
With the Gentle Dental, your orthodontic treatment is carried out by an entire team of dentists as you move through each different stage – our team approach helps patients achieve the smile of their dreams in the most precise, affordable way possible.
By choosing Gentle Dental as your Six Month Provider, you're sure to have reassurance and peace of mind that trained and experienced orthodontists will be treating your smile.
Your first step in getting a new smile is to schedule a brief consultation with our Six Month Smiles dentists in Surrey. You can book a consultation using the button below.
What are Six Month Braces?
Six-Month-Smiles addresses our patients' need for straight teeth, in a timeframe that most other treatment methods can't meet.
Six Month Smiles are:
Fast: Enjoy reduced treatment times
Effective: Teeth move comfortably and effortlessly
Discreet: Hardly visible
There are two types of treatment with 6 Month Smiles:
Clear Aligners: Patients can straighten their teeth with a clear aligner system
Invisible Braces: This version of Six Month Smiles uses clear brackets and tooth-coloured wires for patients looking for a faster route to the perfect smile.
Like traditional braces, clear brackets are bonded to the teeth, and tooth-coloured wires are placed onto the teeth then adjusted each time you come for your appointment at the dentist to align your teeth over time.
Six Month Smiles are more discreet than traditional stainless steel and suitable for patients who desire a less intrusive and obvious brace than train tracks.
This transparent braces system is designed to straighten your front and most visible teeth, so it usually focuses on six teeth.
The length of time you spend wearing your clear braces will vary depending on your specific teeth and circumstances, but on average, it is between 4 and 9 months.
Additionally, this option is usually more affordable than Invisalign – and there are options for funding using multiple different payment methods and finance plans.
WAIT! Check if you're suitable
This system is a good option for adults with minor realignment issues such as extrusions, rotations, intrusions, and tipping.
A short-term orthodontic treatment, the Six Month Smiles system efficiently tackles mild to moderate cosmetic issues, but it can often be unsuitable for complex bite and realignment problems.
For example, Six Months Braces are recommended for corrections to the front teeth only.
See what Six Month Braces can do to visible teeth:
Straighten rotated, crooked or crowded teeth
Align, level and close gapped teeth
Reduces the appearance of overbites and underbites
Please note that even incredible, fast systems like 6 Month Braces have their limitations. We do not recommend this type of treatment for corrections to posterior teeth, severe bite conditions like underbites and crossbites, or patients who need more comprehensive orthodontic attention.
Six-Month-Smile Fact File
Some responses to commonly asked concerns regarding Six Month Smiles:
Comfort: this brace uses low force to move your teeth gently over time, which means you'll experience minimal discomfort throughout the treatment
Speech: though many patients worry braces will affect your teeth, this is not usually an issue, and you should become adjusted to wearing braces after a few days.
Cleaning: though brushing and oral hygiene will generally remain the same, Interdental brushes such as TePe can help reach the spaces between your teeth and keep your mouth as clean as possible.
Retainer: like all teeth-adjustment procedures, you will be recommended to wear a retainer following the end of your treatment to avoid teeth moving back to their original positioning.
Speed: this is a quicker option than traditional braces because it only focuses on your front teeth, so it is better suited for those who want to adjust their smile fast and for cosmetic purposes rather than those with, for example, bite issues.
Fed up with crooked teeth or overbites?
Change your teeth and life today.
Book a consultation today
The process from start to finish
Consultation: As a provider of Six Month Smiles, we will be able to determine whether you are a candidate for the procedure or if there is an alternative discreet system that can deliver the results you were hoping for.
The go-ahead: First, we will take an impression of your teeth, then send this to the Six Month Smiles lab, where custom trays are created to assist the dentist in placing the new braces on your teeth.
Appointment: Today will be the day you get your braces on – this often only takes around an hour.
Tooth movement: By month one, you'll likely be adjusted to life with braces as your teeth begin to realign into their correct position.
Tweaks and adjustments: Between months 1-5, you'll already begin to see the difference in your smile, and from month to month, you can expect to see a significant change. You'll likely need to come into the office for 3 to 7 adjustments depending on your case.
Approaching the finish line: By month five, you'll have one more month before the braces come off.
Braces removed: You'll have the beautiful smile you've been expecting since your first appointment at month six.
How much do Six Month Braces cost?
Patients should know that the cost can be less expensive than traditional braces or other transparent aligner systems.
However, the cost will vary on your specific treatment goals and which provider you turn to.
Here at the Gentle Dental, we offer payment plans and 0% financing to help you break down the payments into manageable monthly instalments.
Our prices for a single arch are £1,999 and £2,999 for both arches in our Surrey clinic – this cost is all-inclusive of scans, appointments, adjustments, the braces, application and removal, plus the dentist's time.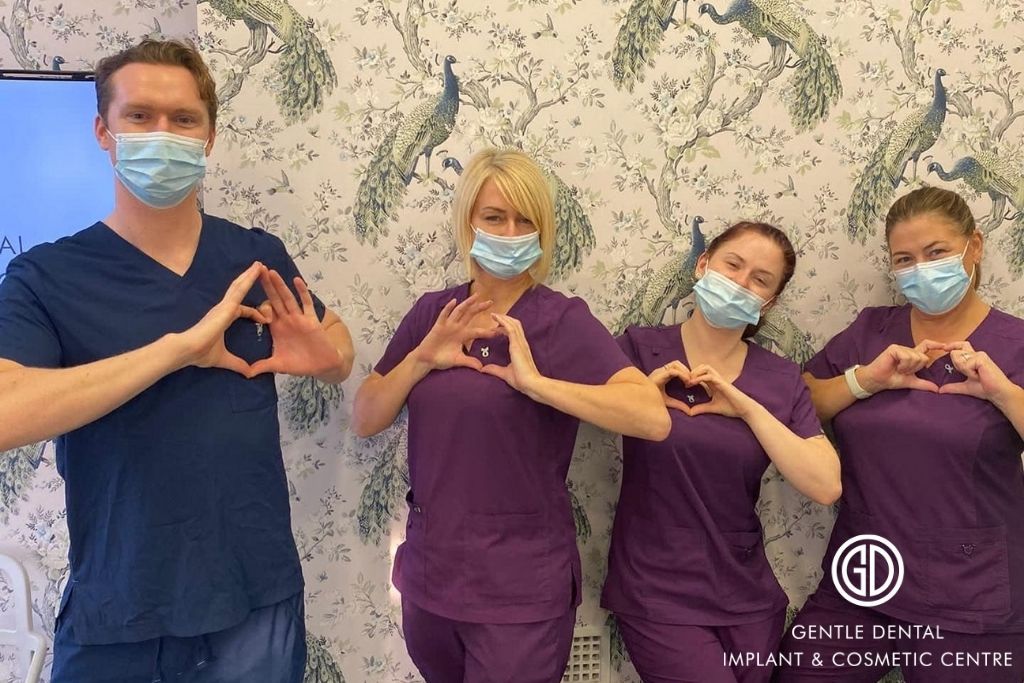 Braces recovery and aftercare
Our dentists will provide you with directions for aftercare, which may include advice such as:
Ease any pain by taking over-the-counter pain relievers as directed by your oral surgeon or dentist. Avoid aspirin as this can cause bleeding.
Stick to soft and cool foods such as yogurt, pasta, or soft vegetables for the first couple of days post-surgery.
Your dentist will give you specific guidance on how to brush your teeth effectively.
Looking to take the next step towards a straight smile?
If Six Month Smiles® sounds like it might be a viable option for you, contact our dental professionals for a comprehensive assessment.
If we find that you are a suitable candidate for the treatment, you will be custom-fitted for your own set of Six Month Smile® braces with an accredited dentist recognised by the BACD.
Contact us on 020 8224 7562 to book your Six Month Smiles® assessment.
Get an interest-free loan in under 5 minutes
It only takes 2 minutes to apply and you'll get an answer immediately – applying for a loan has never been easier.
0% finance is available for many treatments up to £30,000. Credit decisions will be subject to individual circumstances. You must be over 18 and earn an income to apply.
More orthodontic treatments
We are Platinum Providers of Invisalign – this means we are recognised as one of the best.
Brackets are attached to the inner surface of your teeth, cleverly concealing them.t.
The Inman Aligner is a fast way to straighten your teeth and has been received as a revolutionary appliance in the dentistry realm.
Ceramic braces use tooth-coloured or clear brackets that make them less visible against teeth.