Preventive dentistry is a vital treatment for patients to avoid future dental issues… and reduce future dental bills.
Preventive Care and Oral Hygiene
What are the preventive measures we can implement?
As dental care providers, our first goal is to make sure you have all the information and resources needed to properly care for your own oral health.
We work with our patients to ensure you are following the best practices at home to keep your teeth and gums as healthy and clean as possible.
Brushing, interdental cleaning, and mouthwashes
We recommend brushing twice a day – first thing in the morning, and last thing at night.
In addition, we provide our patients with an oral hygiene plan where which may involve using floss or interdental brushes to clean in-between your teeth.
Using mouthwashes is beneficial only if you are cleaning well using the above methods and will remove any loose debris that may have been left behind, and of course, freshen your breath.
Dietary adaptations to help reduce the risk of tooth decay and gum disease
We also advise our patients to eat a healthy, balanced diet. We recommend the avoidance of sugary foods and drinks, as sugar reacts with the plaque in the mouth, creating harmful acids that wear away tooth enamel and cause cavities.
Free Parking | New Patients Welcome | Easy to find.

1 Spencer Rd, East Molesey Surrey KT8 0DL
Finally, we advise our patients to have regular professional cleanings with a dental hygienist.
A hygienist cleans away stubborn tartar that is impossible to remove by brushing alone.
They can also reach areas that a toothbrush cannot, such as the pockets beneath the gum line where plaque and tartar can accumulate.
How important is dental hygiene?
Good oral hygiene is essential to ensure your teeth and gums remain healthy, helping to prevent future issues that could lead to costly restorative treatment.
Although most adults are committed to brushing their teeth twice daily, many people forget to floss, use mouthwash and also are not brushing their teeth attentively or properly.
Maintaining a high standard of dental hygiene reduces the risk of tooth decay and gum disease.
Dental hygiene is crucial for adults and children.
Good habits should begin the moment a child's first tooth erupts, including daily hygiene such as brushing and flossing, as well as regular dentist visits.
How can I ensure optimum gum hygiene?
Gum hygiene is a crucial component of your overall oral health.
Our gums support our teeth and protect the underlying bone tissue in the jaw.
By maintaining their health, you can decrease your risk of developing gum disease.
There is also a proven connection between gum hygiene and the likelihood of developing a range of other health problems.
Early signs of poor gum health include:
Bleeding and soreness
Redness and swelling
Gum recession and bad breath
If left untreated, gum disease can develop into periodontitis, a severe infection of the gums that can lead to tissue, bone and tooth loss.
You can enhance your gum hygiene with a scale and polish treatment, where a dental hygienist removes tartar from beneath the gum line.
They will then polish your teeth to smooth their surface and help to prevent plaque build-up.
If you would like to book a gum hygiene consultation with a dental hygienist, call us on 020 8224 7562.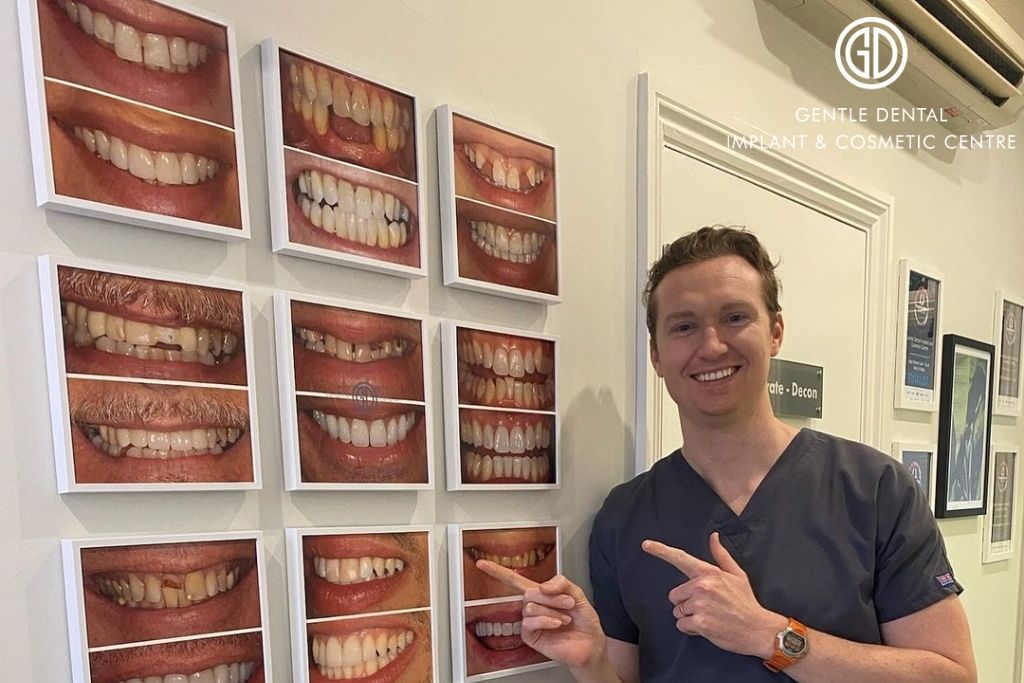 Professional Cleaning: Airflow Tooth Polishing
Our teeth can become stained for many reasons. The biggest culprits are smoking and drinking tea or coffee, but several foods and beverages are also known to stain enamel over time.
If you want brighter teeth, airflow tooth polishing could be for you. We use a blend of air, sodium bicarbonate, and water to remove stubborn plaque and superficial stains, leaving you with teeth that look and feel cleaner than ever.
Dentists sometimes use airflow tooth polishing in conjunction with other treatments to achieve even better results. If you would like this, we can perform a scale and polish beforehand to remove hardened plaque on the teeth and beneath the gum line.
Airflow polishing is also a good preparatory step for professional teeth whitening treatments.
It only takes 2 minutes to apply and you'll get an answer immediately – applying for a loan has never been easier.
0% finance is available for many treatments up to £30,000. Credit decisions will be subject to individual circumstances. You must be over 18 and earn an income to apply.