By taking good care of your gums, your oral health will be stronger and more stable; keeping your teeth safely in place. Visit our hygenist in East Molesey.
Treating, Preventing & Reversing Gum Disease
Gum disease is not exactly subtle. Puffy, red and tender gums that bleed and cause irritation often signifies to patients that they are suffering from the condition without ever being diagnosed. 
And while, in the early stages, gingivitis can be too easily ignored, as your local dentists, we urge you not to ignore these early signs and symptoms.
Because it's in this stage that we'll be able to reverse the condition, if you continue to ignore it and allow periodontitis to form, it'll be too late. 
Prevent tooth loss and poor oral health by doing something about it today!
Signs and symptoms of gum disease
We do not advocate for self-diagnosis, but if you are worried that you have gingivitis or gum disease please check the below symptoms:
Gingivitis symptoms (early indicators):
Tender, red or swollen bleeding gums
Bad breath (even after brushing)
Sensitive teeth / painful gumline
Advanced gum disease (periodontitis) symptoms:
Bad breath or a bad taste that won't go away
Loose wobbly teeth
Black triangular pockets between teeth
Gum abscesses or pus in your gums
Please do reach out to us if you experience any of these signs, even the early symptoms. The sooner we catch it, the more chance we have of reversing gum disease completely.
Don't be scared of bad teeth, it's our job and profession to make sure they're healthy.
Please don't ignore the problem any longer
As dentists, it's our job to educate our patients on the consequences of ignoring their dental conditions.
And we cannot stress enough how ignoring gum disease can only lead to expensive and extensive problems further down the line.
Tooth loss is a common consequence of periodontal disease and periodontitis.
When you ignore gum disease, you are accepting the fact that tooth loss is going to eventually occur. Often, this only hits home when our patients begin to lose teeth in the visible portion of their smile.
Advanced periodontal disease
In even more advanced cases where periodontal disease has caused significant damage to the supporting structures of your teeth, a periodontist can perform restorative soft tissue grafts and bone grafts.
If your teeth become loose during this time, your periodontist may also prescribe a splint or a bite-guard to provide extra stability.
If you typically experience sensitive or bleeding gums, you may require treatment to avoid the risk of tooth and tissue loss. Periodontists aim to correct problems involving the soft tissues of the mouth before they become more serious.
As gum disease progresses, it leads to a more serious infection called periodontitis or periodontal disease. It can cause gum recession, allowing bacteria to attack the bone underneath, leading to tooth loss.
1 Spencer Rd, Molesey, East Molesey Surrey KT8 0DL
Free Parking | New Patients Welcome | Easy to find.
Treatments for gum disease
Possible treatments for gum disease and periodontitis depend on the severity of your case. Scaling and root-planing is highly effective at removing stubborn plaque and tartar beneath the gum line, promoting healing in the soft tissues.
In more severe cases, you may require surgery to replace lost tissue in the gums and jaw bone. If your teeth become loose due to advancing periodontitis, your periodontist may also provide you with a splint or bite guard to stabilise them.
If you suffer from advanced gum disease, call us on 020 8224 7562 to book an appointment with a periodontist.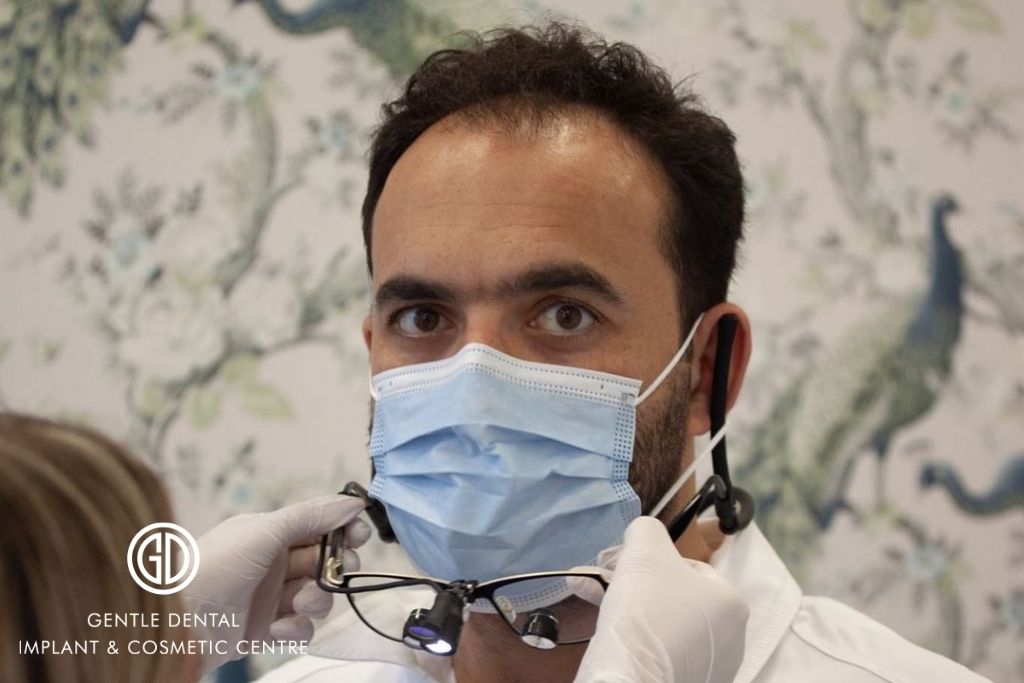 Gum disease and dental implants
As implant dentists, we're here to tell you that placing dental implants in patients with gum disease is no easy job either.
Dental implants require healthy and strong gums, and gum disease weakens and dissolves the tissue and bone, which means it might not be strong enough to hold an implant.
However, there are specific treatments like bone grafts we can use in these instances to make the bone stronger, but these are all additional and often pricy fixes.
It only takes 2 minutes to apply and you'll get an answer immediately – applying for a loan has never been easier.
0% finance is available for many treatments up to £30,000. Credit decisions will be subject to individual circumstances. You must be over 18 and earn an income to apply.