The Inman Aligner is an affordable, removable orthodontic appliance that moves the front, visible teeth a fraction of the time it takes other systems.
Inman Aligners Surrey | Are They Better?
Do you suffer from crowding in your front teeth? Or perhaps protrusion (teeth that protrude)?
Using the Inman Aligner patented technology, straightening your front teeth has never been easier. With the invisible system, teeth are gently guided into their correct alignment in a matter of weeks.
Yes, you heard that right! The Gentle Dental can help you achieve a straighter, whiter smile in as little as 18 weeks – that's just over a month of wearing the aligners.
To learn more about what the Inman Aligner can do, or to pursue an orthodontic consultation, book an appointment using the button below.
What is an Inman Aligner? Who can benefit?
The aligner's effectiveness and success can be attributed to two spring-loaded aligner bars, which provide gentle but continuous pressure – this is the safest and kindest way to move teeth so quickly.
The Inman Aligner can help target overcrowding or minor alignment problems – it will not apply to severe overbite cases. We can use other systems that are fast – explore them here.
So what exactly can the Inman Aligner do, and what can it fix?
Realigns the front teeth
Corrects issues with crowding, protrusion, rotations and even crossbites
Perfect for orthodontic relapse cases
How does it work? The technical stuff
The Inman aligner works by putting a small amount of pressure on the teeth.
The brace itself is made from titanium coil springs that work in unison with the aligner bows to gently push teeth into their desired position.
The inner bow pushes out on the teeth while the outer bow pulls them in, quickly straightening the teeth with one aligner. 
Simple cases can take as little as a month to complete treatment, whereas some more severe bite conditions in the front teeth can be treated in a maximum of four months.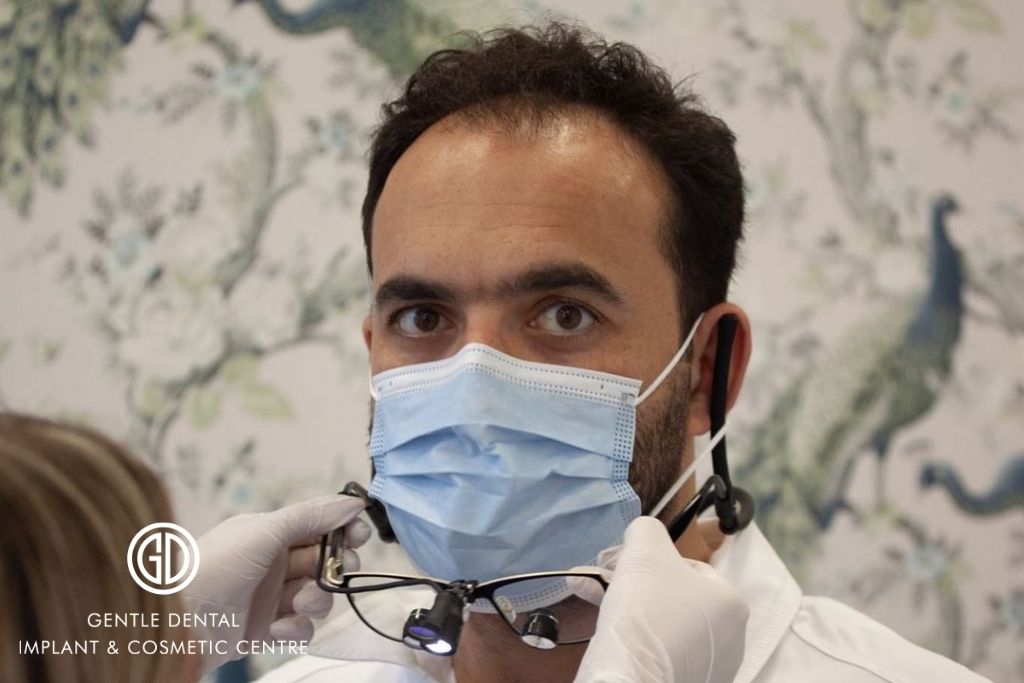 The success of Inman Aligners
Inman aligners have an extremely high success rate.
If you wear your aligners diligently and follow all of the care advice from your dentist, you can expect to have straighter teeth in just a few weeks.
Inman aligners have had a success rate of 94% for previous patients. 
Though the device is removable, the aligner should be worn 20 hours per day for best results.
The treatment only works if the teeth are placed under gentle but constant pressure.
Why choose the Inman aligner?
At The Gentle Dental, we have a team of highly qualified and experienced dentists confident in providing treatment for multiple orthodontic procedures.
With there are many options on offer, some of the reasons people often choose to go with The Inman Aligner are:
You can achieve impressive results using just one appliance
More affordable than other treatments but still provides patients with results they can be proud of
Removable and easily re-inserted (just like a retainer)
Multipurpose: Can be used to quickly align teeth as a standalone treatment or as a step before aesthetic restorative treatment
Low time investment: Most cases can be completed in 6-18 weeks
Fed up with crooked teeth or overbites?
Change your teeth and life today.
Book a consultation today
What does the aligner treatment entail?
First, we will organise a free consultation meeting to familiarise ourselves with your oral history and existing teeth and your anxieties and concerns regarding treatment, if there are any.
We will take impressions to design the perfect customised Inman Aligner for your mouth.
The Aligner is made using highly accurate 3D printed models, which are digitally corrected and adjusted, so we begin the process with the perfect Aligner in terms of aesthetics and occlusion.
You will receive a detailed chart of where any Interproximal reduction is required and where any buttons need to be placed.
You will receive a detailed chart of where any Interproximal reduction is required and where any buttons need to be placed.
We can also create a timeline for your treatment so you are fully in the loop regarding all aspects of the procedure.
When you return home with your Aligner you are expected to wear it 16-20 hours a day. If you choose to wear it for less than this, your treatment time may increase.
We will arrange regular check-ups at our practice every 2-3 weeks throughout the treatment duration, to carry out any additional IPR and check if buttons need to be repositioned.
Similar to all orthodontic treatment, when your treatment is completed we recommend a retention solution for life to prevent relapse.
This may be a bonded retainer you wear at night.
We are available by phone or online if you need any additional support throughout the time you are wearing the brace.
Combining aligners and cosmetic dentistry
The revolutionary clear brace system is often seen as the "missing link" between cosmetic dentistry and orthodontics, which moves teeth in the anterior region more predictably, safely and quickly.
The procedure is often used as a pre-treatment tool to pre-align teeth before applying other cosmetic procedures like veneers or dental bonding.
But to pull off amazing results, you'll need not just a dental practice specialising in orthodontics, but for cosmetic dentistry too.
Here at the Gentle Dental, we can put together deals and offers to give your smile a makeover – for example, one of our affordable smile design plans look like this:
Inman Aligner                  £1,799
Tooth Whitening              £295
Composite Bonding        £250
Total cost £2,344            or £195 per month (no interest)
It only takes 2 minutes to apply and you'll get an answer immediately – applying for a loan has never been easier.
0% finance is available for many treatments up to £30,000. Credit decisions will be subject to individual circumstances. You must be over 18 and earn an income to apply.
More orthodontic treatments
We are Platinum Providers of Invisalign – this means we are recognised as one of the best.
Brackets are attached to the inner surface of your teeth, cleverly concealing them.t.