A knocked-out tooth is a medical and dental emergency and will need urgent care and treatment to preserve your oral health and condition.
Lost Tooth Emergencies
The Gentle Dental will prioritise lost tooth emergencies and will be able to offer you a same-day appointment so that further complications and infections do not form.
In instances where an adult tooth is knocked out, we advise that you try to put it back in place and visit a dentist immediately.
When you cannot put a tooth back into position, place it in some milk and, again, book in for urgent care.
The sooner a knocked-out tooth is re-implanted, the better chance it will embed itself back into the gum. However, this has to be done very quickly, leading to patients seeking other replacement options.
Missing teeth/knocked-out tooth emergencies
You will have a few restorative dentistry options to close the gap when you have lost a tooth. These include:
Dentures: Traditional removable false teeth can often be uncomfortable for patients and cause embarrassing moments when they slip out of place.
Bridges: Here, a false tooth will be glued to teeth on either side of the gap using special cement.
Implants: Emerging as the most popular tooth replacement solution, it uses a titanium screw secured into the jawbone. This type of treatment is durable, strong and natural-looking. See teeth in a day for immediate fixes.
Dental implant mini-guide:
Missing tooth facts: The truth about missing teeth
Some patients will ignore a missing tooth and pass it off as no big deal. However, it can have severe impacts on your oral and general health.
Bone loss: The gaps caused by a missing tooth or teeth often lead to jaw bone loss. When a tooth is lost, the bone that supports it can disintegrate. Dental implants fuse with your bone, providing newfound support and strength.
Shifting teeth: Healthy teeth not affected by tooth decay or gum recession are firmly attached to the jawbone. When teeth are knocked out, this can accelerate problems like gaps in the mouth make it easy for teeth to move, and just like a domino, all other teeth follow suit.
Bite irregularities: When the teeth begin to shift, it will undoubtedly affect how the teeth meet, determining the occlusion. Bad bites can cause sensitivity, further tooth loss and headaches.
Speech issues: It can be difficult to pronounce certain words when a tooth is lost. There is even a chance you might experience slurring, spitting and whistling.
Broken, chipped or loose teeth
If you have damaged your tooth and a piece has broken off, we would advise you to find the lost fragment and store it in milk.
The dentist may be able to glue it back onto the tooth. However, if you cannot locate the fragment, the dentist will then prescribe a tooth-coloured filling material, which will build up your tooth.
In the most severe cases, where the tooth is too badly broken, and nerves become exposed, the area may be too sensitive, which might require root canal treatment.
The Gentle Dental practice offers emergency/same-day dental appointments to new and existing patients who are suffering from a multitude of oral health problems in East Molesey.
We can treat the full range of dental emergiences, everything from a lost tooth to a swollen mouth. We know you are in pain and need an immediate solution. 
We offer free parking. We are a 10-minute walk from Hampton Court train station.
Whenever our patients are in extreme discomfort or are facing serious oral health and hygiene issues such as knocked-out teeth will require immediate dental assistance.
The consequences of a missing tooth that remains untreated can lead to serious gum infections, gum recession, bone loss and further tooth loss.
If an infection happens, it can be more difficult to treat the affected area as other treatments will be needed to stabilise the mouth's condition and ensure it's in an appropriate state for a treatment like dental implants.
Book an appointment. Call 020 8224 7562.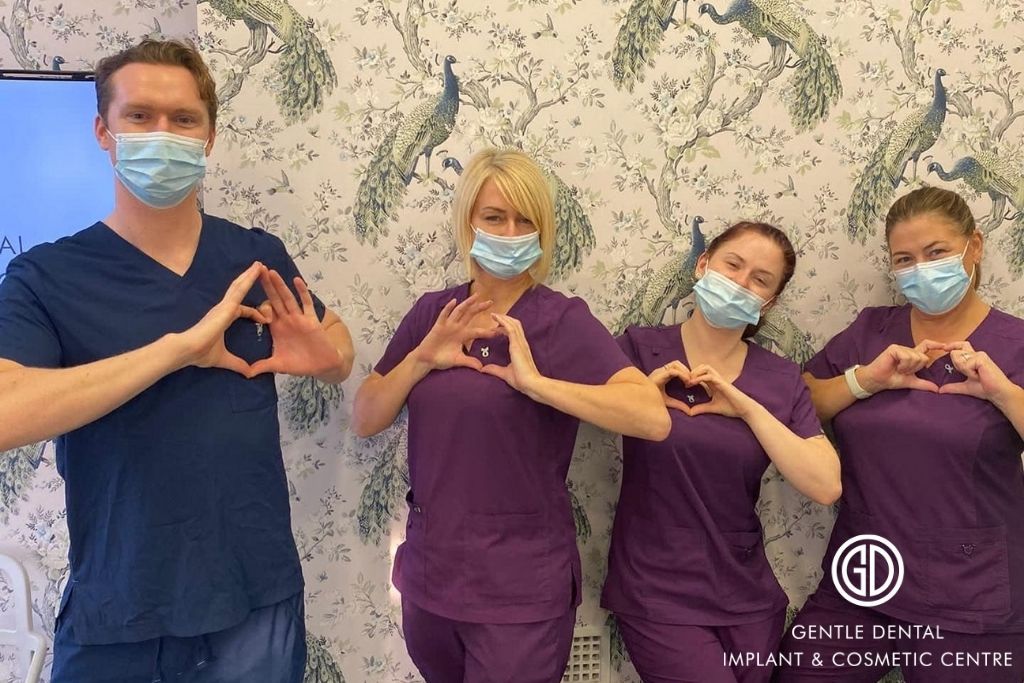 Get an interest-free loan in under 5
minutes
It only takes 2 minutes to apply and you'll get an answer immediately – applying for a loan has never been easier.
0% finance is available for many treatments up to £30,000. Credit decisions will be subject to individual circumstances. You must be over 18 and earn an income to apply.