Chipping, breaking and cracking a tooth is a dental problem that can easily be rectified by a restorative or cosmetic dentist.
Repair Chipped, Cracked or Broken Teeth
Here at Gentle Dental, our skilled restorative dentists have years and years of experience in repairing smiles and improving their aesthetics. We make smiles stronger, healthier and more attractive. Our most recommended treatments for chipped teeth include veneers or bonding.
White dental fillings
Porcelain dental crowns
Composite bonding
Dental veneers
 White fillings from £90
 Veneers from £750
 Bonding from £299
Dental crowns from £745
Dr Michael Marshall using our advanced iTero scanner
Dr Michael Marshall is your cosmetic dentist
Award-winning dentist and leader in his field
Treated hundreds of chips and breaks
Post-graduate cosmetic dentistry training
Easy to get to
Free parking
5 rated ⭐⭐⭐⭐⭐
Open till late (8pm)
Caring for your chipped or broken tooth
If there's one thing we know is restorative and cosmetic dentists is how painful and uncomfortable it can be to chip, break or crack a tooth.
It's very easy for teeth to become damaged, and it can happen in a number of ways. For patients who need urgent tooth repair, see our credible dentists in East Molesey today.
We're always here to help. Call 020 8224 7562.
Rinse your mouth with warm water immediately, next apply pressure to the area to stop any bleeding, then place a cold compress to prevent any swelling.
If you have the piece of the broken tooth, conceal it in some wet gauze and bring it to us – we may be able to save it.
We would advise using gauze to hold the crown and replace it back into the socket (if you can). If the tooth appears dirty, you can give it a rinse, but do not clean it.
If it is impossible for you to place it back into your mouth, place it back into a glass of milk or water and try to get an emergency dentist appointment within half an hour.
However, if some time has passed we can replace a missing tooth with a dental implant, or conceal chips with cosmetic procedures like veneers.
What not to do
Chew on the tooth OR bite down on hard foods
Drink very hot or cold beverages
Avoid touching the exposed tooth root
Get an interest-free loan in under 5 minutes
It only takes 2 minutes to apply, and you'll get an answer immediately – applying for a loan has never been easier. 0% finance is available for many treatments up to £30,000. Credit decisions will be subject to individual circumstances. You must be over 18 and earn an income to apply.
Common teeth that break are molars in the lower jaw; this is mainly down to their sharp cusps that grind into the grooves of the upper molars. However, any tooth can crack, from incisors to canines.
What might not be visible to the eye is where cracks run from the root to the pulp chamber – these cracks can even be symptomless and confused for other dental conditions like cavities or tooth sensitivity.
Generally speaking, the wider and deeper the crack or break is, the more urgent it will be to seek treatment. For example, patients experiencing severe chipping where most of the tooth has broken off may be at risk for tooth loss and jaw problems due to a pressure build-up.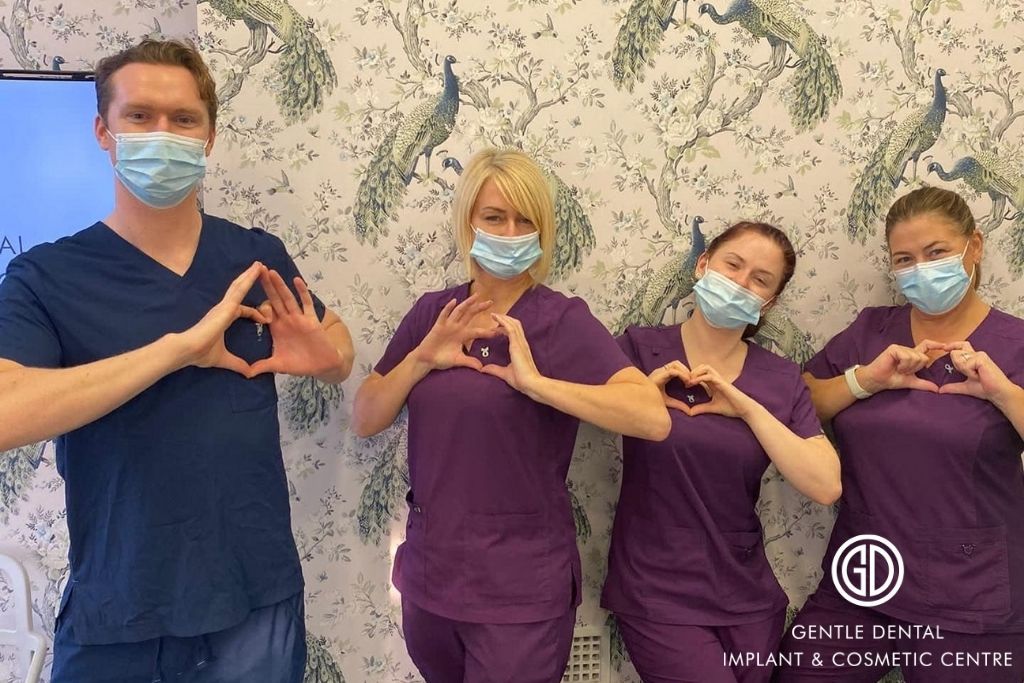 Sometimes, when only a small piece of tooth enamel has broken off, it might be more advisable to undergo dental bonding or filling procedures, which repair the tooth quickly and cost-effectively. Using a tooth coloured composite resin, chips and cracks in teeth are restored in as little as one appointment. However, compared to other cosmetic procedures like veneers, bonding is not as long-lasting or considered a permanent option. Read more.
Covering the entire tooth like a cap, dental crowns sit above the gum line and can be used to conceal the damage where a tooth is severely damaged and cannot be repaired with a filling. Even if the tooth is cracked from an injury or accident, crowns can be used to hold the tooth together. To have a crown fitted, the tooth size will need to be reduced for the crown to slot over. Crowns are made from highly durable materials that are long-lasting and natural-looking. Read more.
A thin shell of porcelain, which, unlike a crown, slots over the front surface of the tooth. Perfect for concealing minor to major imperfections veneers are commonly used to fix minor chipping and cracking problems. Highly stain-resistant and durable, veneers blend flawlessly with existing teeth. Read more.