If you have a gummy smile, long teeth, or an uneven gum line, then gum contouring can help improve the appearance of the gums and teeth.
Solve Gummy Smiles For Good
If you are self-conscious about your gummy smile or the appearance of your teeth, get in touch with one of our dentists on 020 8224 7562. The team here at the Gentle Dental cosmetic centre will be able to talk through your various options.
Based conveniently in East Molesey (KT8 0DL)
Free on-site parking for patients
Google-rated ⭐⭐⭐⭐⭐
Open late on weekdays and open Saturdays
Surrey's go-to cosmetic dentists
25+ years of experience
Specialists and experts on-site daily
Award-winning dentists who are leaders in their fields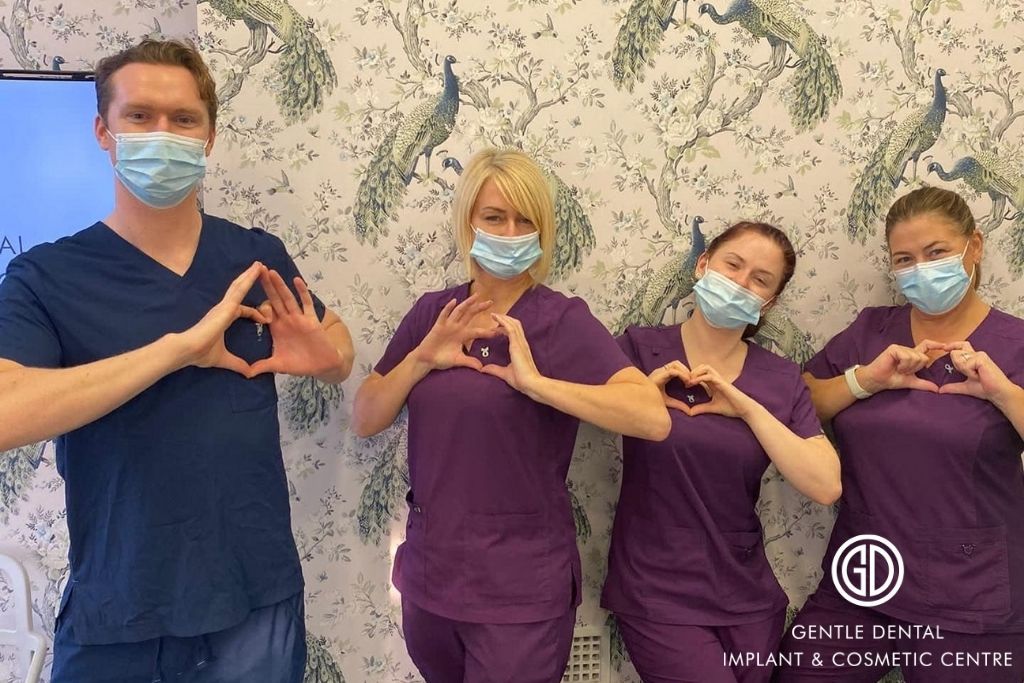 Gum contouring/gum grafting
Porcelain or composite veneers
Scaling and root planing
Regeneration or laser gum surgery
Gum contouring £100-£299
Veneer treatment from £750
Laser Perio £1600
Pay as little as £14.32 a month with finance
Gum reshaping is a cosmetic procedure that contours and re-sculpts your gumline.
This is a good choice if you have a 'gummy smile' that makes the teeth look too small. It is a  permanent procedure that only needs to occur once.
The gum sculpting process involves removing or restoring gum tissue around the teeth.
Your gums can become uneven, too high or too low for a number of reasons.
If you have short teeth – where your gums cover a large proportion of your teeth, making them look small – then this could be a result of your genetics, a health problem or certain medications.
If you have high gums then this is a condition often caused by gum recession, which  occurs when the tissue of your gums retracts from the tooth and reveals more of the tooth's surface.
Causes of gum recession include: Ageing, poor oral health, brushing your teeth too hard, gingivitis and the build-up of plaque bacteria
Gum recession can lead to a number of dental problems such as tooth loss and decay.
Do I need gum contouring?
If you are self-conscious about your gum line, then there are ways to change and reshape it to restore your confidence.
Altering the way your gums look is not a medically necessary procedure, it is an elective treatment.
However, there may be situations where gum contouring is medically necessary.
For example, if you have receding gums, then this increases the risk of gum disease and therefore having your gums restored will help reduce the risk of developing infections.
Restoring the gums aims to reduce the pockets between your teeth which are prone to bacteria and decay, and improve the overall look, structure and health of your mouth.
Everything you need to know about the procedure
Our dentists will provide you with directions for aftercare, which may include advice such as:
Ease any pain by taking over-the-counter pain relievers as directed by your dental practitioner. Avoid aspirin as this can cause bleeding.
Stick to soft and cool foods such as yogurt, pasta, or soft vegetables for the first couple of days post-surgery.
Your dentist will give you specific guidance on how to brush your teeth effectively.
Gum reshaping usually costs between £150-£250, depending on the complexity of treatment. See our full list of fees here.
We also offer 0% finance options to help make our treatment accessible and affordable for everyone. Because gum contouring is mostly a cosmetic procedure, it is not usually included on the NHS.
However, in rare cases where the gumline is affecting the medical and oral health of an individual, it may be possible to get NHS funding for gum sculpting.
Start your journey to your dream smile today by calling us on 020 8224 7562 or booking an appointment online.
Get an interest-free loan in under 5 minutes
It only takes 2 minutes to apply and you'll get an answer immediately – applying for a loan has never been easier.
0% finance is available for many treatments up to £30,000. Credit decisions will be subject to individual circumstances. You must be over 18 and earn an income to apply.