Invisalign uses removable clear aligners that mean your teenage or child can enjoy the activities and day-to-day tasks without being held back by a mouth full of metal.
Invisalign First is designed to help moving and emerging teeth find their correct position and alignment.
Invisalign Teens works to reposition teeth that have been pushed and forced into misalignment. 
So whatever your child's bite problem, whether it's crooked teeth or overbites, Invisalign uses SmartTrack materials to apply the right amount of pressure, at the right time, removing the need for brackets or wires.
Movement that's 75% more predictable with Invisalign
Before you consider Invisalign, first check if you are suitable. The above photo shows treatable cases.
Invisalign is really great, but with the same as any procedure, it has its limitations; for example, it cannot move teeth up and down. 
To ensure that alignment technology works flawlessly and without any hiccups, various Invisalign systems are targeted at different age groups to treat different concerns.
For example, growing mouths are forever changing and moving, so their type of Invisalign will vary slightly to the more powerful force that certain adults and teenagers will undergo to move difficult bites.
Costs start from £2,500
Fixes overbites
Corrects crooked teeth and overcrowding
Closes gaps up to 6mm
This Invisalign system can be used to align erupted teeth, permanent dentition, and baby or milk teeth.
Specifically designed for younger and changing mouths, Invisalign First addresses oral conditions often found in younger patients like gaps that aim to help teeth find their correct alignment right from the get-go.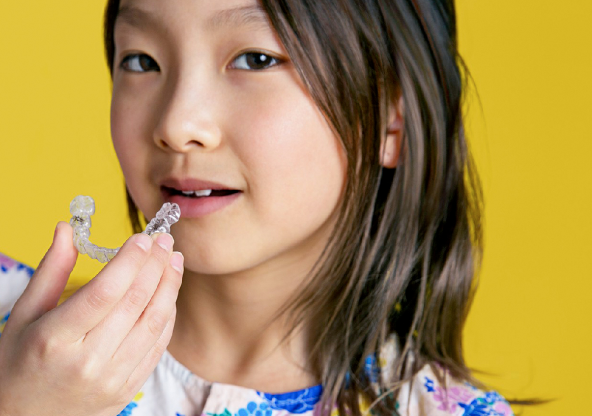 Costs begin from £3,000
Class II malloclussions
Complex bite problems like overbites and underbites
Eliminate gaps
It is popular amongst teenagers as it allows them to avoid the stigma surrounding metal braces.
We know how stressful life can be for a teenager without having to contribute to low self-esteem issues surrounding their smile and teeth.
Invisalign Teen is easy to wear, hardly noticeable and provides greater comfort.
Invisalign/Invisalign Go: For ages 18+
Prices begin from £2,500
Invisalign Go for Class I malocclusions
Invisalign Full for Class II maloclussions
Regarding brace systems, no age is ever too old (we've even prescribed Invisalign for patients in their 50s). Because of its discreet properties, Invisalign is a lot more popular amongst young working professionals – with one in three patients over 18.
Invisalign Go is designed for small and minor oral conditions like gaps and slight overcrowding. Much faster than other systems, Invisalign Go treatment can be completed in just three months.
Clinically proven to work
Why choose Invisalign over other traditional tooth straightening methods?
Invisalign is removable: It can be taken out to eat, drink, brush and floss – this means that teeth can remain healthy and free from harmful bacteria that cause decay and infections.
Invisalign is virtually undetectable: Many of our patients have commented that their aligners were hardly noticed by others, meaning they could carry out their treatment privately and without the stigma surrounding alignment procedures.
Invisalign is not painful or uncomfortable: Invisalign uses a series of aligners and trays that aim to straighten teeth gradually. Some slight discomfort can be felt when swapping a new set but is nothing compared to having brackets tightened.
Invisalign actually works! Invisalign is effective at reversing troublesome and complex misalignments. The SmartTrack material is clinically proven to improve how the tooth moves, meaning it outperforms any other clear aligner available to buy today.
Eat freely
Keep up with regular oral hygiene routines
No need to change eating habits
Aligners can be removed to eat (but must be cleaned)
22 hours a day of pain-free wear time
Take part in activities like playing musical instruments or sports with no change
Custom-made to your child's mouth to encourage precise and accurate movement
Results visible in just a few weeks
Get an interest-free loan in under 5 minutes
It only takes 2 minutes to apply and you'll get an answer immediately – applying for a loan has never been easier.
0% finance is available for many treatments up to £30,000. Credit decisions will be subject to individual circumstances. You must be over 18 and earn an income to apply.
State-of-the-art treatment planning and tools mean children and teenagers can complete their treatment much faster than other systems.
In just three simple stages, you're all set and ready to complete your treatment privately.
We will confirm that your child qualifies and is eligible for treatment. After taking 3D images of the teeth, we will use these records to create a specific ClinCheck 3D treatment plan, which will be sent to Invisalign as a guide to make your bespoke aligners.
These aligners will be shipped back to our dental studio within 2-3 weeks, and we will invite you to receive them! You'll have your first few sets, which will be swapped, changed, and managed at home.
You'll get to see us still occasionally, where we will schedule appointments to provide you with your next stage of aligners, manage your progress and check how the procedure is working. All our appointments are included in the cost.
Movement that's 75% more predictable with Invisalign
Our Invisalign consultation is the perfect place to start where you can truly identify if your child qualifies for the treatment.
As Platinum Providers of Invisalign, we are part of a rare and few elite orthodontists who have treated the most Invisalign cases in Europe (often in the hundreds).
This means that we hardly ever turn cases away because we have the knowledge and experience to treat even the most complex of cases.
We can sit here all day no problem and tell you how great Invisalign is, but it's your choice to decide whether it will be the right fit for your budget and child.