Many contributing factors can lead to crooked, misaligned and overcrowded teeth. If your teeth are too big for your mouth, they can fight for space and grow unevenly or in different directions.
9 million patients have experienced the benefits of Invisalign. The Gentle Dental has been almost awarded the highest accreditation that Invisalign certifies.
This makes us part of a rare, select few orthodontists who have treated the most Invisalign cases in Europe.
What is Invisalign?
If you already don't know what Invisalign is, as the name suggests, it is invisible aligners that are shaped like mouthguards.
Made from a flexible and clear acrylic material that makes the straightening process discreet and almost unnoticeable, Invisalign offers patients faster treatment times at no huge extra cost.
They can correct the most minor to the most complex orthodontic issues for those who feel self-conscious about the look of their smile.
If you are considering Invisalign or other orthodontic treatment, call us today on 020 8224 7562.
SmartTrack material aligners that apply the right amount of pressure on the tooth at the right time
Comfortable and removable
Gradually but powerfully moves teeth in 12 months or less
Platinum-rated Invisalign dentist; Dr Ali Rifai will provide you with your own set of aligners that will be worn in their numbered stages to gradually realign and shift teeth.
The stages and shape of your aligner will be custom-made to match your current mouth shape and moving the teeth into their correct, more appealing positions.
You will wear each set of aligners for around 22 hours a day, for 2 weeks, before moving on to the next stage.
There are many types of Invisalign treatment, which is targeted to individuals of different ages, these include Invisalign First (for children aged 6-10), Invisalign Teen (for ages 11-17), and Invisalign Full or Go for those who are 18+.
For minor, class 1 classifications
The treatment length is designed to take less than six months and costs from £1,500.
This type of Invisalign treatment is ideal for the mildest cases – for someone who needs a slight tweak to push or rotate the front 4 upper or lower incisor teeth.
The movement is completed over seven aligners.
Many of our clients that have i7 are those that had orthodontic treatment in the past and are starting to see relapse and would like to correct it before it worsens.
Traditional braces: What are they and how do they work?
Can take up to 24 months
Requires a retainer to be worn after treatment
Available on the NHS, but costs are similar to Invisalign privately
Traditional metal braces are fixed metal straightening appliances that are attached to the teeth to realign their position.
Brackets are fixed onto each tooth, and a wire passes through these brackets and is attached using rubber ties.
The wire applies force to the teeth and forces them to move, and then it is tightened incrementally over some time as the teeth become straighter.
Once the teeth are in their final desired position, the braces are removed, and your orthodontist will provide you with retainers to be worn at night to ensure the teeth remain in their new position for the long term.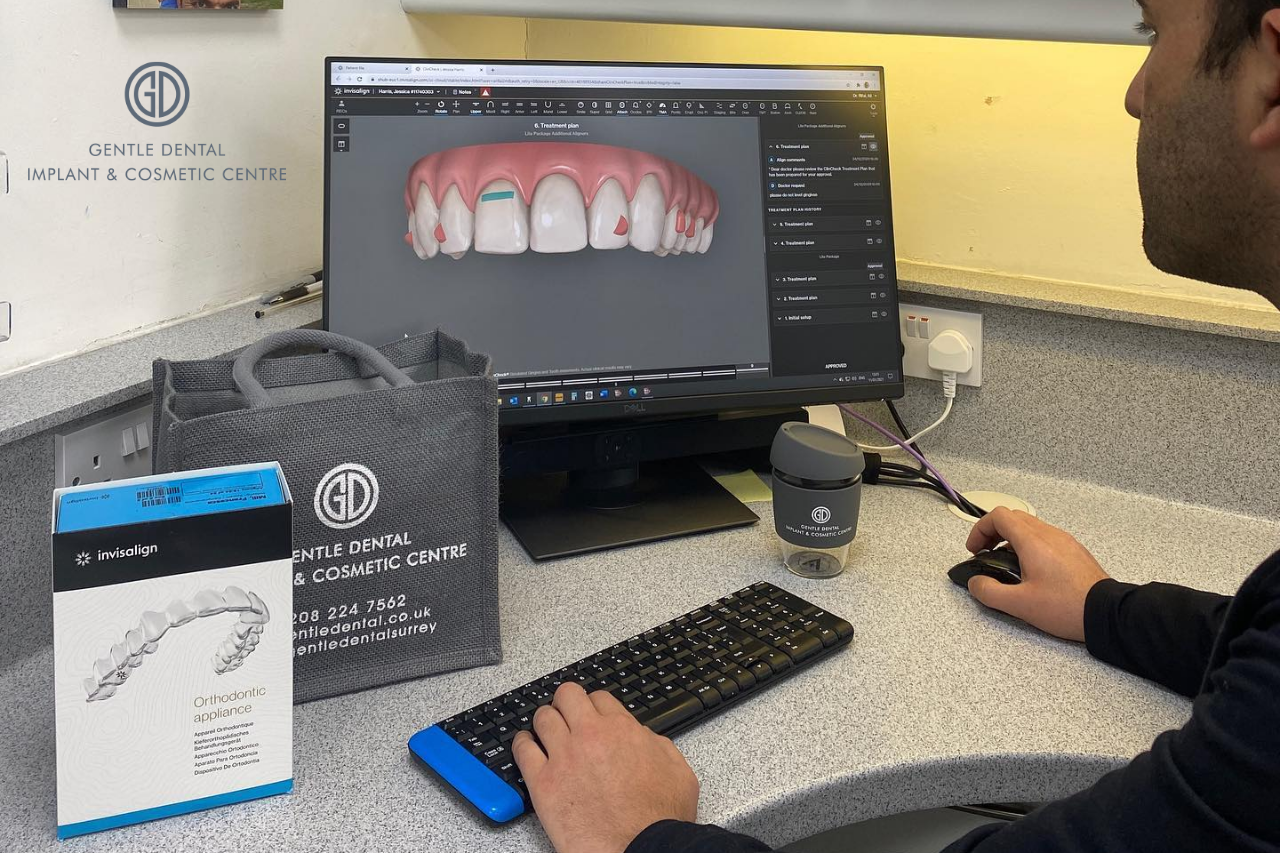 Invisalign for Children
The treatment length is between 4-6 months and costs from £3,000.
Invisalign First, also referred to as Phase 1, is designed for growing smiles.
Similar in its features to Invisalign Teen, these initial aligners target a broad range of simple issues such as crowding, spacing, and narrow dental arches.
To qualify for this treatment, you will need to be aged 6-10; this is the best time to begin orthodontic treatment.
Invisalign for Teens
Class 2 crowded and crooked teeth
Gaps between teeth (up to 6mm)
Deep bites, underbite, open bite, and crossbite
The treatment length is 12 months and costs from £4,000.
Differing from conventional, non-removable braces, wires, and brackets, Invisalign aims to use a series of aligners that can be removed up to 2 hours a day.
This means that this straightening system does not interrupt or interfere with your teenager's daily life.
Some of our teenage patients feel self-conscious about having braces and are less than thrilled about the food restrictions that fixed braces can have and the oral hygiene requirements. It's comfortable, convenient, and designed with the younger mouths in mind.
Working very similarly to other Invisalign systems, Invisalign Teen has some minor adjustments that make it the most suitable treatment for teens – these include:
Blue wear indicators that fade from blue to clear, will help to identify how long the aligners have been worn for and help your teen manage their progress
Overall advantages of Invisalign systems
Safe, stable, and secure
Practically invisible, strengthens the oral state
Faster and easier, no stigma
Require fewer appointments, check-ups, and treatment times
Does not disrupt activities like sports and playing musical instruments
40% fewer appointments compared to traditional braces
Less likely to need an emergency appointment
3D digital planning for complete accuracy and precision
How much does Invisalign cost?
Invisalign Cases & Reviews
Before
After
Before
After
Before
After
Before
After
It only takes 2 minutes to apply and you'll get an answer immediately – applying for a loan has never been easier.
0% finance is available for many treatments up to £30,000. Credit decisions will be subject to individual circumstances. You must be over 18 and earn an income to apply.