A dental crown is a cap used to partially or fully cover a tooth leaving you with a new and improved smile. However, complications can still occur.
How to book an emergency dentist appointment
The Gentle Dental can offer immediate appointments for patients experiencing crown problems.
The Gentle Dental practice offers emergency/same-day dental appointments to new and existing patients who are suffering from a multitude of oral health problems in East Molesey.
We can treat the full range of dental emergencies, everything from a lost tooth to a swollen mouth. We know you are in pain and need an immediate solution. 
Emergency repairs are needed when a crown becomes loose, chips, fractures and brings you discomfort.
When a dental crown becomes loose or experiences the above problems, it can cause patients a lot of sensitivity and pain.
Losing a crown can leave you with pain when you try to chew or when your tooth is exposed to particularly hot or cold substances, and if left unresolved for a prolonged period, this may lead to additional dental issues.
Though losing a crown is not considered an immediate dental emergency, we recommend a same-day appointment for a crown replacement to help your confidence and minimise discomfort and inconvenience.
Our family-run dental practice prides itself on a 30-year reputation.
Gentle Dental is open 24/7, with experienced dentists always available for same-day emergency appointments.
Trust us with your smile, book your appointment online, or call us now on: 020 8224 7562.
Dental crowns may fall out due to:
Decay: Failing to brush and floss around the crown daily can allow bacteria to build and cause decay.
Diet: Sticky or chewy foods can gradually loosen your crown or latch on it and pull it loose.
Dental cement: Dental cement can sometimes become contaminated due to a poor bond, which can cause your crown to loosen.
Stress: High-stress levels can often cause dental issues. If you grind your teeth, for example, this can cause a crown to fall out.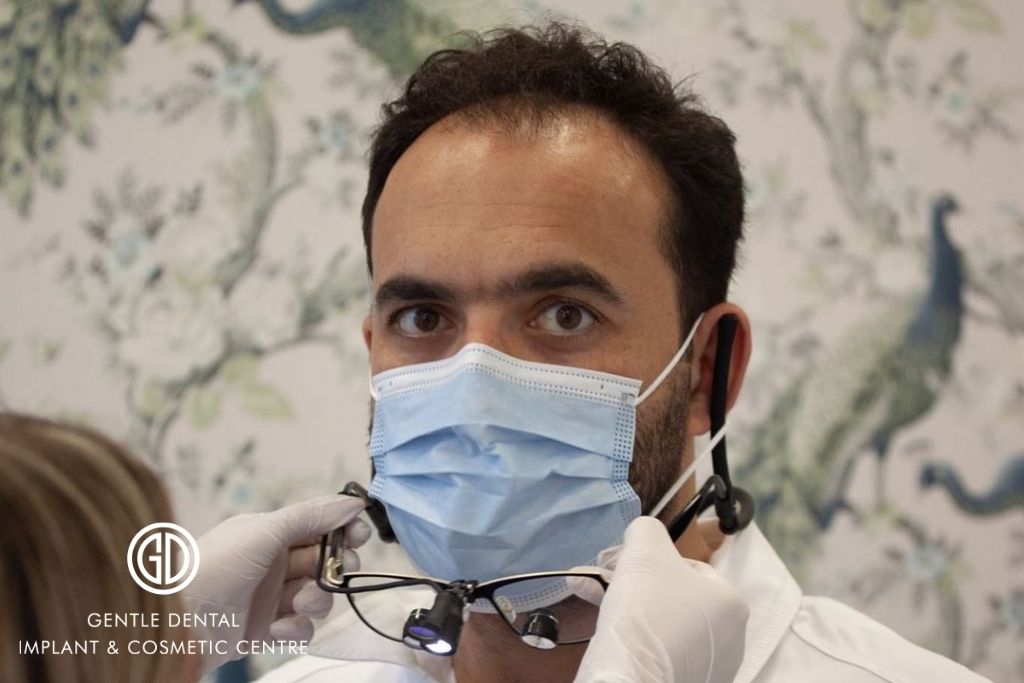 When you need to seek urgent help
When your crown is becoming loose or starting to "wobble." When a crown is unsteady, it can have detrimental effects on your oral health as it allows bacteria from food to enter its way between the crown and the gum. This often leads to gum infections.
You are experiencing an unpleasant smell or taste. If you can feel that an odour is deriving from the crown, it can be a sign that bacteria has found its way between the restoration and gum. This can lead to serious gum infections that can cause tooth loss and further gum recession when ignored.
When the crown has fallen out, you must be seen by a restorative dentist immediately as many problems can form, including additional pressure on the gums and infection, among other dental complications.
What to do if you lose a crown?
When you lose a crown, please remove it from your mouth so that you do not accidentally swallow it.
Once you have removed the crown, keep it safe if you can and schedule an appointment for an examination and repair at the earliest possible date.
We can schedule your visit whenever convenient for you and your emergency dental needs.
When a crown is lost, we recommend that you immediately arrange to see a professional dentist, such as Dr Ali Rifai, who will be able to assess your oral condition.
It is not recommended to ignore the problem. However, whilst you are waiting for an appointment, we suggest that in the meantime you:
Practice good oral hygiene
Use clove oil to dull any pain or sensitivity
Avoid certain foods and drinks that are sweet, hard to chew, acidic or erosive
Immediate dental crown replacement is essential
If your crown is intact and not broken, it may be salvageable.
Keep it safe and bring it to the dentist to assess whether it can be reused after cleaning or if it needs to be replaced.
You may also be able to slip it back over the tooth as a temporary solution. First, clean the inside of the crown, and coat it with dental cement to hold it in place.
Dental cement is available in most pharmacies and can also be used to coat the tooth to protect it from bacteria.
These are not permanent solutions; they are only meant to seal and protect the tooth until you see a dentist.
We use the latest in-house Cerec 3D system, which uses the latest and most advanced technology to provide high-quality porcelain inlays and crowns.
This helps our patients save time as the computer software does not rely on dental impressions and takes less time to manufacture the crowns.
We can offer same-day emergency appointments, so if you want your dental crown repaired, book an appointment online or call us on 020 8224 7562. We are accepting new patients.
Get an interest-free loan in under 5 minutes
It only takes 2 minutes to apply and you'll get an answer immediately – applying for a loan has never been easier.
0% finance is available for many treatments up to £30,000. Credit decisions will be subject to individual circumstances. You must be over 18 and earn an income to apply.